Do you wonder which luxury real estate agencies to contact in New York? Now that the world is beginning to reopen, the real estate market is finally on the move again. While most industries suffered through the first year of the pandemic, the buying and selling of real estate became particularly challenging.
New York City is now returning to its typical place as a city to consider when purchasing a luxury home. Properties in New York City offer excellent long-term value and can be utilized for various purposes, such as vacationing or renting to tenants.
While real estate agency companies are fairly easy to find in most cities, it's important to be choosy when selecting your agent and choosing wich luxury real estate agencies to contact in New York. Many agents are simply in the business for the commission and do not fully consider the buyer and seller's needs. These needs may differ for individuals managing luxury properties, and some agencies are not equipped to assist these clients effectively. This can be frustrating, as buying a home is a gigantic investment that should not be taken lightly.  
BARNES New York is here to provide you with elite services as you navigate the market in NYC. With over ten years of experience in New York City and agents from all over the world, BARNES offers a multicultural team to help guide you through the numerous opportunities available in the big city. Now is the time to take advantage of the market and continue to grow your investments with luxury NYC properties. 
Why should I consider real estate companies in New York that specialize in luxury homes?
Buyers looking for high-end homes will want to contact luxury real estate agencies in New York that work with expensive homes daily. Because this is a niche field, these agents will be much more well-versed in desired neighborhoods, more aware of properties that are currently available, and more familiar with potential buyers of these properties.  
Since luxury homes tend to be within the top 10% in terms of price, clients would benefit from utilizing real estate agents who are skilled in navigating this competitive, fast-paced market. BARNES provides specialized services for those looking to buy and sell luxury items and is, therefore, able to effectively support their clients throughout the process.
In addition, luxury properties tend to include particular features that are very expensive, scarce, and desired. The location of a property, as well as its amenities, can significantly impact its value. Two homes with the same square footage will not be worth the same amount of money when they are in two different locations. This is why it is important to find a real estate agent who is extremely well-versed in the neighborhoods of interest and who can alert you to opportunities promptly.
At BARNES New York, we have agents and brokers who speak various languages to partner with you on your real estate journey. Since we are an international company, we have connections in countries worldwide. As a result, our clients are able to effectively manage their properties from their homes without having to travel internationally, as BARNES agents can take care of the logistics on-site.  
BARNES New York provides agents and brokers knowledgeable within their specific NYC borough. In addition, these agents are matched with BARNES agents in other countries, such as France, to provide the best service and most thorough knowledge of the property.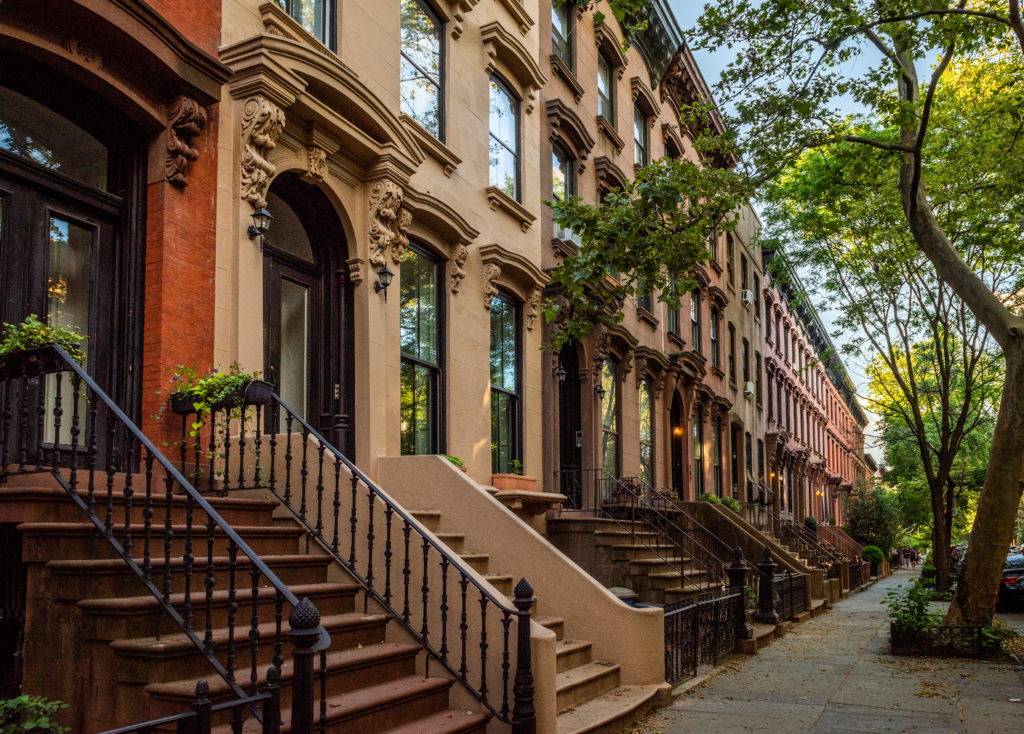 Why consider luxury properties in New York?
In particular, NYC is an excellent choice for luxury home buyers to explore. New York City offers a wide variety of property types, such as apartments, condos, and penthouses. While some buyers may be looking for a vacation home, others may be looking to sell or rent their properties to tenants.
Since New York is a bustling city that can be quite expensive to live in, tenants are always looking to rent. We also provide property management services for rental homes, such as collecting rent, responding to maintenance issues, and conducting yearly property inspections. Clients can rest easy knowing that BARNES has it under control and that their investment is being taken care of accordingly.
Additionally, New York offers a lot of luxury real estate agencies to contact, not least because of the atypical architecture that the city offers, value in its history and cultural attributes. Historic buildings can offer prestige and charm that contributes to their overall price value, while newer buildings often offer updated features that are highly desirable to wealthy clients. Amenities such as access to a pool or stunning rooftop views may impact the pricing of the property.  
In NYC, each borough and neighborhood has its own distinct personality and attributes. For example, Midtown Manhattan offers properties close to major attractions, such as Times Square, and is also in close proximity to other desired neighborhoods, such as Chelsea. This provides excellent opportunities for renting, given the prime location for tenants who work in the area or travelers wanting to see the city's sights.
On the other hand, you may be looking for an area that is more residential in orientation. For example, uptown Manhattan offers beautiful views of the city and is close to some of the most unique shops and galleries that New York has to offer. BARNES New York is prepared to guide you through the properties available across the city based on your preferences and intended use for the property. We currently offer Manhattan, Brooklyn, Queens, the Hamptons, Westchester, and Upstate New York listings.
What constitutes a luxury property?
BARNES is available to assist with numerous types of luxury properties, including not only homes but also additional high-end purchases. We can help you buy, sell, and manage your purchases, regardless of the location of your primary home.
Luxury homes are unique for numerous reasons, and their uniqueness is part of what makes them expensive enough to be considered "luxury." In NYC, luxury homes often have excellent views of the city, are conveniently located, and provide amenities that are not easily accessible in many big-city apartments, such as in-unit washers and dryers.
These properties may also be unique in how they are designed (compared to the typical square-shaped apartments commonly seen in the city) and tend to be more spacious than typical homes in the area. Because the features of these properties are unique, we focus on the details of these homes and can provide updated information regarding their availability.
In addition, BARNES New York is also available to assist with the acquisition and selling of large luxury items, including yachts, private jets and art advisory services. While many real estate agencies only offer services directly related to housing, BARNES is here to help you buy, sell, and manage these additional luxury assets. Some of the services provided include management of the construction of new yachts based on the client's preferences as well as the purchasing and selling of yachts.  
Furthermore, BARNES offers assistance with fine artwork, including the transport and installation of pieces in addition to sales and purchasing. A strong benefit of choosing BARNES New York is the ability to utilize the same company to manage numerous luxury investments.
What types of properties does BARNES New York have to offer?  
When you want to contact a luxury real estate agency in New York, you need to be hypervigilant as listings change frequently, and brokers need to know exactly what their clients are looking for to not miss out on the perfect opportunity. At BARNES, we organize properties by larger borough or neighborhood and then further classify them into smaller neighborhoods within the larger sections. This allows the buyer to focus on some of the property's most important features, such as location and size. 
While BARNES real estate agents are happy to assist you with finding your perfect home, we also provide a website that is easy to navigate so that you can search on your own, as desired. In addition, buyers can filter for amenities, such as the number of bedrooms, outdoor space, and community doorman services. Whether you are looking for a cozy condo in Manhattan or a gigantic vacation home with a pool in the Hamptons, BARNES New York is ready to assist with agents who have specialized knowledge of these areas.
At the end of the day, when selecting a real estate agency to utilize for your luxury property in NYC, you will want to make sure you go with a company that is reliable, knowledgeable of the area, and savvy enough to identify new opportunities promptly, as the market is very competitive. We are an excellent choice because we specialize in managing luxury properties and offer services beyond that of a typical real estate company.
Furthermore, our multicultural staff offers services in numerous languages, such as French and Spanish, and can effectively assist buyers worldwide. For these reasons, we hope you'll consider utilizing BARNES New York as you navigate the luxury market in New York City.