New York City is one of the most attractive cities in the world, and millions look to call it home. Can a foreigner buy property in New York City? Our guide tells you yes and teaches what you need to know if you are making this big step.
New York City is one of the most exciting and promising cities in the entire world. There are quite literally millions of people who move to New York from all over the world. There are a number of reasons that entice people to this major metropolis, from its cultural pulse, to its location on the East Coast, to its place at the center of commerce and entertainment.
New York is so appealing, in fact, that many foreign-born people want to plant their flags in New York City and buy property there. But some people aren't sure if there are taxes and rules related to that or if it's even possible at all. Did you know that there are some countries and cities that don't allow foreigners to buy real estate?
Many people wonder if foreigners can buy property in New York and the correct answer is, yes, they can. However, if you are someone not born in the United States, there are a few things you should know when you are buying an apartment in New York City. You should be well aware of the requirements you'll need to meet, the documents you will need to have, and the sort of property that you can invest in.
Buying a property in New York City is possible if you're a foreigner but you should be sure you know what you're doing and what steps you need to take. Thankfully, our guide will teach you everything you need to know if you're a foreign-born investor looking to break into the New York City real estate market.
What does a foreigner need to buy a property in New York City?
Not only can a foreigner buy property in New York City but many already have. In fact, there are countless foreign-born residents and foreign corporations that own much of the land and property in the Big Apple. However, there will be tax implications. The IRS (Internal Revenue Service) requires foreigners to pay US income taxes on any income in/from the United States.
If you wish to be one of the many foreigners who have invested in the New York City real estate market and buy property in the city that never sleeps, there are a few things you need to have access to before you can start the process.
Depending on your type of investment (primary residence or rental investment), you will first need to determine the best legal structure for your real estate investment. You will also need a valid passport or proof of identity, a social security number or ITIN, bank statements and other financial documents from your foreign bank, and any evidence of fund, reserves, check stubs, tax returns, and/or a US credit score.
The higher that your credit rating is, the lower your initial down payment will be. Of course, some foreign-born residents might have a low or no credit score at all with no history in the US. If that is the case, there are still properties that you will be able to buy but you will have to consult with your real estate agent. Obtaining US financing is also possible, but you will need to get advice from our agents or a real estate attorney.
Everyone, foreign-born or not, will have to place a down payment on any property they are intending to buy with financing. The amount you will need to spend varies depending on the type of loan you are granted but it is usually around 20% of the home's final purchase price. Keep in mind that if you make a larger down payment initially, you will have less money to pay off on the property over time. Because of this, some people look to have a larger down payment so they are not tied to their mortgage payments for so much longer.
If you are getting a mortgage, you might be requested to show a consistent, reliable form of income that is coming into your bank. Any lender will want to make sure that you can afford the property you are buying and that you can make your monthly mortgage payment too. Of course, buying cash is also a faster and easier option.
Foreigners can own the property under their own name or through a company. There are pros and cons for each option, depending on whether there is a mortgage involved, or the existence of a tax treaty between the United States and the foreigner's country.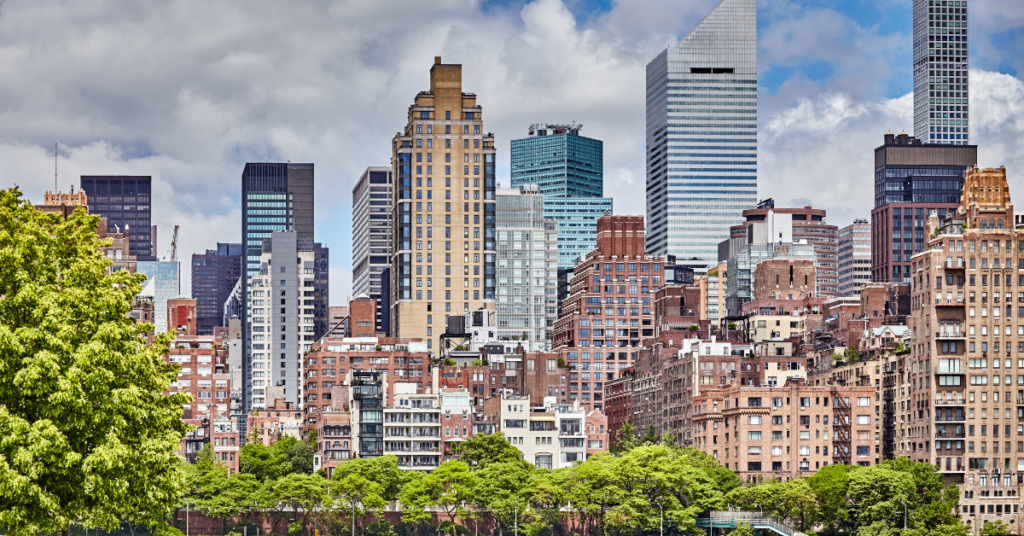 How does a foreigner buy property in New York City?
If a foreigner decides that they want to purchase New York City property, there are several steps that they will need to follow in order to make that happen.
Firstly, they should find the neighborhood they are most attracted to. They should have their goals in mind. Do they want to settle down with a family? Are they looking to start a business? Do they need to be close to public transportation, schools, or other businesses? All of this needs to be put into consideration. Additionally, any potential buyer needs to think about the sort of housing they want to reside in and the amenities that they require with it.
Finding the right real estate agent is yet another step that needs to be finished when a foreigner is looking to buy real estate in New York City. This agent will be able to tell the foreigner about trends in the industry, the best places to live depending on their needs, and all the documentation that is needed to purchase property.
Once the right property is found, an offer can be made. That entire part of the process will be handled by the real estate agent and an attorney, who will make sure that all the paperwork is done.
Why should you buy New York City real estate?
The reasons why a foreigner would want to buy property in New York City are numerous. For generations now, NYC has been one of the most exciting places to live in the entire world.
New York City has a bunch of different cultures all living in one place. There are people who were born in many various parts of the world who now call New York City their home. That means that you will be able to meet new types of people, experience their ways of life, their food, and their customs.
Buying property in New York can also be a very smart investment because of the resale value of New York apartments, townhouses, condos, co-ops, and more. Buying an investment property in a resilient market like New York is a good option to diversify a real estate portfolio.
New York is seen as the center of the world when it comes to entertainment, fashion, and business. If you or your family are interested in these things or tied to them in any way, New York will make you even more connected to the pulse of the nation and the latest trends.
What type of New York City property can you buy?
The median price of a home in New York City is about $715,000, according to PropertyShark. That is a decrease of about 7.7% from last year. You have plenty of options when you are looking to invest in the city:
Condo: Any foreigner looking to buy property in New York should think about a condo. While they are built like very large, modern apartments, you actually have full ownership over a condo when you buy it and share certain common areas, such as parking and the gym.
Co-op: A co-op is perfect for people who want to invest long-term in a home and who know they will be located in NYC for a few years. With one of these types of properties, owners are able to share in the co-op association, and the shareholders own the building and all the units. Owning a co-op requires that you participate in the co-op board, which decides who is able to buy space, and renting out is usually not allowed.
Townhouse: A New York City townhouse is usually a two or three-story building that is very spacious and situated right next door to adjacent buildings. To many, it feels like an ultra-large, multi-story apartment that is tall and narrow. Townhouses are great investments and a wonderful choice for a foreigner but they also often come with a heftier price point.
Summary
New York City is one of the most beloved cities in the entire world and that is why so many people from all over Earth want to live there. The good news is that no matter where you were born, you can buy property in New York. But you just need to be aware of a few things and remember them as you start your hunt for your new place. Contact us at BARNES New York if you are a foreign-born resident looking to make the big move to the Big Apple.