Real estate new developments in New York City are amazing and are privileged place to live. Whether you are looking for your dream home or investing in a rental property, BARNES New York can provide you with the specialized assistance needed to walk you through the entire process. We offer a variety of services, such as negotiation of pricing, direct access to developers, and specialized knowledge of NYC neighborhoods.
While there are plenty of wonderful older residences in the city, some buyers are looking to invest in a newer development. BARNES has its own department for new developments with access to construction programs worldwide, which has done the research to find you the most beautiful residences in locations that are in high demand and with features that are irresistible to buyers and renters.
Why invest in new developments in NYC?
Most would agree that NYC is a unique and fascinating city. It offers something for everyone, with art museums, Broadway productions, world-renowned restaurants, and endless shopping. In addition to location, there are several benefits to investing in newer developments in the city.
Newer developments, in general, tend to have fewer needs in terms of maintenance and renovations. This saves the buyer money, especially if the property is used for rental investment. Additionally, newer buildings tend to have more desirable features that align with current expectations, such as washer and dryer connections (which can be very challenging to find in-unit) and more luxurious amenities, such as high-end gyms and spas.
A less obvious benefit of investing in real estate new developments in New York, is the opportunity to lock in a price at the early stages of development. Making a commitment to a property early on can save significant amounts of money, as the buyer may be able to get an excellent price without having to worry about inflation. BARNES can provide assistance with the negotiation and acquisition of these types of properties.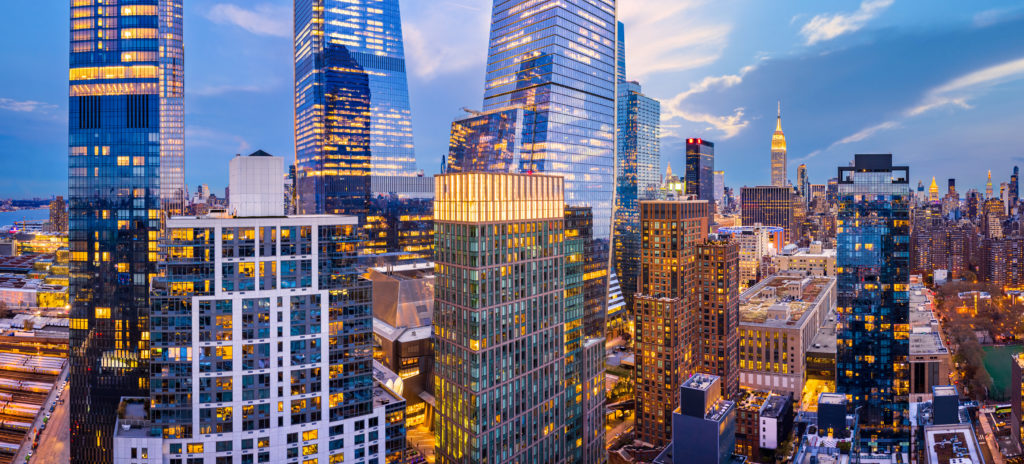 What are some of the popular neighborhoods for new developments in NYC?
NYC is diverse in what it has to offer, and this is especially true for the Manhattan borough. Some of the key neighborhoods we suggest exploring are SoHo and the Upper West Side, Hudson Yards, and the Financial District.
SoHo is an excellent neighborhood for walkable luxury shopping. Near Midtown and the East Village, this neighborhood is accessible to desired restaurants, galleries, and upscale bars. Rooted deeply in the arts, this area is a unique place to live and visit. Buyers interested in SoHo should look at 77 Charlton Street, which offers a private courtyard and condos ranging from studios to 3-bedrooms.
In nearby Morningside Heights, Vanderwater stands as a 33-story luxury condominium, and it offers views of Central Park, Riverside Church, and Columbia University. The Upper West Side also features 200 Amsterdam, which is located near the Museum of Natural History and the Lincoln Center. This complex also boasts unique amenities, such as a "Zoom room" for meetings and a "little composer's room" for children to explore their musical talents.
Foodies will want to explore Hudson Yards, located in Manhattan's West Side. Developments in this area are also near the art galleries of Chelsea as well as the Hudson River Park. 35 Hudson Yards, the 4th tallest building in the US, features floor-to-ceiling windows and easy access to The Shops at Hudson Yards.
This development also offers a 2-year membership to Equinox club and spa for no extra charge. Another strong contender in this area is 15 Hudson Yards in West Chelsea, which offers panoramic views of Manhattan and easy access to Hudson River Park.
These are just a few of the popular neighborhoods in Manhattan. BARNES is prepared to help you find the neighborhood that best fits your style and needs, and will walk you through the process of acquiring your dream home.
What types of amenities are available?
Amenities are particularly important when shopping for high-end real estate developments, and New York City luxury developments have quite a few to offer. It can be helpful to be aware of the amenities that are most crucial to you while shopping for your new home.
Many luxury condominiums offer lobby service for added protection and convenience. 300 West, located in Upper Manhattan in the West Harlem Area, offers 24-hour lobby service with doorman and concierge services.
Another popular amenity is easy access to an in-house pool or spa. 111 West 57th Street, located in Midtown, offers residents a lap pool, a sauna, and a steam room. Buyers looking for a place in the Upper East Side should consider for its beautiful indoor pool and sauna. This facility also offers a unique camping-themed children's play area and even a sound lounge for musicians.
In addition to pool access, many buyers are also interested in other fitness-related amenities. For example, 130 William, located Downtown, offers a wide variety of options for those interested in fitness and sports, including a swimming pool, a yoga studio, a basketball court, and an exit close to the park.
Where are some of the most beautiful views?
It can be challenging to choose the complexes with the most beautiful views in NYC, as there are so many iconic images of the city. Whether you are looking for something overlooking a waterfront, a high rise that offers views of the skyline, or windows with viewpoints of Central Park, there are luxury developments that accommodate these requests.
One Manhattan Square is located on the edge of New York Harbor, at 800 feet above the water. This development offers glass paneling for optimal views of the waterfront. 77 Greenwich also offers beautiful waterfront views and is close to Battery Park. These types of developments can make you feel like you're in an oasis within the big city with their serene viewpoints.
For those looking to see the beautiful skyline, 196 Orchard, located in Manhattan's Lower East Side, boasts an amazing view of the NYC skyline, with its 4,300 square foot rooftop terrace overlooking the city. Buyers may also want to consider places that offer iconic views of Central Park, such as 111 West 57th Street.
We recommend all buyers looking to invest in luxury properties check out the real estate new developments emerging in New York City. BARNES New Development is prepared to assist clients with finding, buying, and selling these properties. We are equipped with specialized knowledge and resources to help you get the best deal for your money and to make the most out of your investment over time.