The luxury real estate market in New York is continuing to thrive. The opening and second quarters of 2022 saw more deals signed to add to the already growing count of luxury properties.
The COVID-19 pandemic had a deep impact on the market, which has now recovered, and even risen to higher prices than pre-pandemic levels. There is indeed still an increasing demand for high-end homes, especially in Manhattan.
How high is the interest rate expected to rise?
The interest rate has risen since the beginning of the global pandemic and is expected to continue to rise throughout the rest of the year. Right now, it is expected that the interest rate could increase from 5% to as high as 7% by the end of the year.
What is the current luxury market like in New York?
Simply put, the luxury real estate market is competitive, and people are looking to buy. So, with a supply shortage and an influx of demand, the prices rise with the interest rates.
Material and labor shortages add to this as well, making it another case where the demand is greater than the supply. To combat this, some sellers are opting to renovate their properties before listing so that they can charge more in the market. The results vary, but generally, the newly-renovated properties sell for more than similar, non-renovated properties.
As of the second Quarter 2022, the average sales price for luxury residences in Manhattan was around $8,800,000, and the average price per square foot is about $2,814/sq. ft. Overall, this represented a 14.5% increase year-over-year.*
*Data obtained from UrbanDigs
Is the luxury real estate New York market the same all over the city?
Luxury real estate in NYC offers a type of living that is one of a kind and cannot be found anywhere else. Because of this, the market is highly sought after, making the boroughs and neighborhoods surrounding Manhattan just as expensive. Of course, different areas offer different things, which is why BARNES, as the exemplar of luxury real estate in New York City, offers its services as a top brokerage to help you find what you need.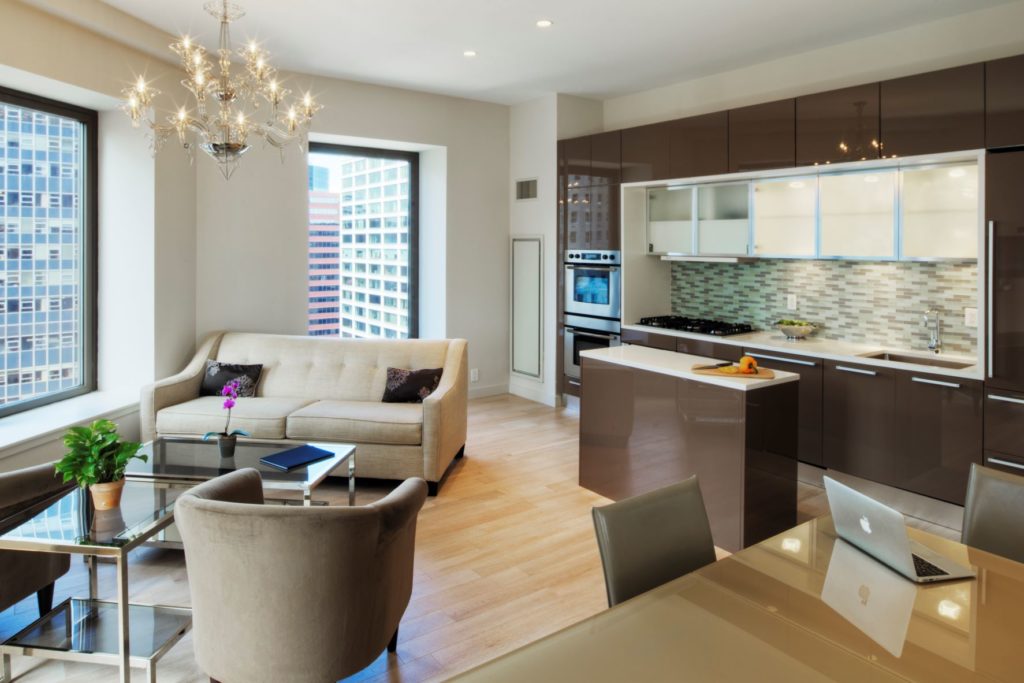 What can I expect in New York luxury real estate?
New York City is a historical city with many historical buildings and homes built long ago. Those interested in living in luxurious, historical buildings will thus find no shortage of options in the big city. Many of them have been completely renovated or revived to their original glory and beauty.
Alternatively, New York City offers plenty of new buildings with picturesque views of the city with all of the modern-day amenities like a workout gym, a rooftop or a swimming pool.
Where are the best neighborhoods for luxury living?
There are so many options around New York City, but perhaps, the most prevalent are TriBeCa, SoHo, and Central Park, to name a few. TriBeCa is in downtown Manhattan. It is home to countless five-star restaurants, landmarks, and celebrities. It's got the luxurious lifestyle that goes along with its many luxurious living options.
SoHo is an upper-class neighborhood in Lower Manhattan with many high-end shops and designer boutiques. In addition, there are many historical buildings here for luxury living.
The name Central Park says it all. It is indeed the iconic park located in the heart of New York City. The forested space is walled off entirely by high rises, both old and new, and the neighborhood offers a plethora of luxury living spaces. If you want the most picturesque views of New York City, you will find what you need here. Central Park Tower is actually the world's tallest apartment building, located on New York City's Billionaires' Row. One of the most famous street, renowned for its luxury new developments with incredible amenities, is Park Avenue, south of Central Park.
How do I get more information on the luxury real estate market?
New York has a rich and storied history that dates back to the beginnings of modern-day America. It is a city like none other in the world and is host to some of the best luxury real estate options out there. New York City really has it all, from buildings built over a century ago to new constructions with all the amenities one could dream of.
A great place to begin your in-depth search into New York luxury real estate is here, with BARNES New York. BARNES is a top brokerage and can help guide you to finding the best possible option for luxury living.