New York City is always bustling with people who have places to go and goals to achieve. It's a beautiful city for real estate investment, as it perpetually attracts tenants looking to rent a home for vacation, for a semester of school, or for the long term.
In addition, NYC is an amazing place to purchase a secondary home, as there are countless sources of entertainment and shopping, most of which are very easily accessible on foot or by public transportation. So whether you are looking for a new home for your family or an investment rental property, BARNES New York has the resources you need to navigate your way through your purchase.
While NYC offers plenty of historical real estate, there are excellent advantages to exploring new real estate developments within the city, which often include elements of historic architecture in conjunction with the conveniences of modern, upgraded materials and amenities. BARNES New Developments has preferred access to developers. Our team consists of agents with top-notch negotiation skills as well as a thorough knowledge of different parts of the city to help you find your new home.
How can I save money buying new real estate in New York?
Some buyers shy away from newer developments because of the price tag; however, luxury purchases are excellent investments. Updated properties offer increased value and are often built better due to the advancement of construction and materials. They know that these details are extremely important when purchasing in the luxury market.
For example, 35 Hudson Yards was built with hand-picked limestone all the way from Germany, giving it warm, welcoming features. 108 Leonard incorporates majestic, historical architecture and combines it with more modern features to create beautiful units and common areas. Finally, buyers will want to check out 130 William Street, as it features luxurious Italian Pietra stone kitchen countertops. The upgraded materials and intentional features add value to all of these luxury properties and will likely reduce the need for renovations in the near future. These characteristics are one of the advantages of buying in a new real estate development in New York.
Furthermore, other unique details of these new developments certainly add to their value as well. For example, 277 Fifth Avenue offers floor-to-ceiling windows and columns that were intentionally placed along the perimeter of the building to avoid blocking the view. In addition, One Wall Street features tiled mosaics and a landscaped rooftop terrace for residents to enjoy views of the NYC skyline. New York City is known for its beautiful views, and these properties deliver what buyers want to see.
These features increase the value of luxury residences and therefore tend to increase the return on investment for those looking to rent or sell their property. BARNES New Developments provides our clients with services for buying, selling, and managing these types of properties, and our agents have the knowledge and experience to be able to identify unique features that help elevate luxury buildings in NYC.
Will I save money on utilities by investing in a new real estate development?
Newer developments tend to implement more affordable and eco-friendly utilities, saving the buyer money on energy costs. For example, 565 Broome SoHo incorporates a sophisticated curtain-wall system that helps to retain heat in the winter and generate solar energy in the summer. This reduces the cost of energy as well as the negative impact of consumption on the environment.
15 Hudson Yards boasts an on-site emergency generator, in case of loss of power, that contains efficient boilers to help reduce electric costs. Electricity tends to be one of the most expensive utilities for renters and homeowners, so these eco-friendly implementations can truly make a difference in overall costs and count as one of the major advantages of buying in a new real estate development in New York.
At BARNES New York, we are always on the lookout for properties that offer efficient, low-maintenance utilities to save our clients money and reduce negative impacts on the environment. Additionally, newer developments are able to incorporate updated technologies, such as more efficient energy systems and water-efficient plumbing, to reduce these costs.
What kinds of unique amenities are included in new developments in NYC?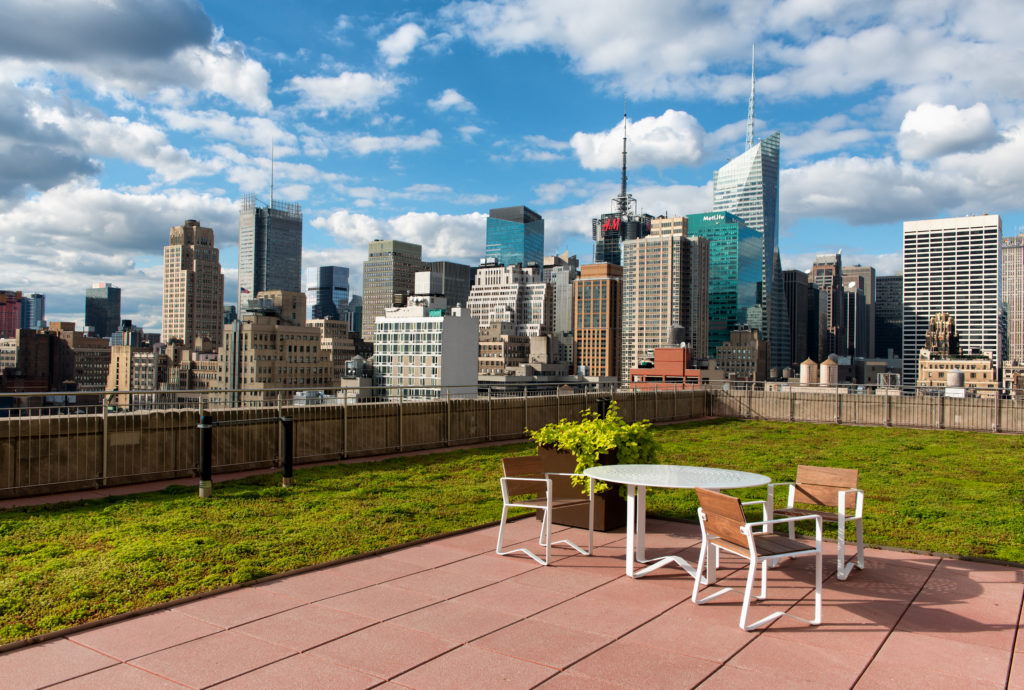 BARNES International Realty recognizes that another advantage to investing in new real estate is the availability of updated, state-of-the-art amenities, which add value to the property. Some of the more popular amenities include services and spaces dedicated to the health and wellness of residents.
For example, 53 West 53 features a gorgeous dining area that overlooks Central Park as well as a 65-foot lap pool and a golf simulator. It is conveniently located above the Museum of Modern Art and boasts amazing panoramic views. 130 William includes an infinity-edge spa pool, a yoga studio, and a fitness center with a terrace to elevate your health and fitness experience. 200 Amsterdam, located in the Upper West Side, has 'his and hers' steam rooms, a yoga and pilates room, and an infrared sauna. All of these amenities add up in value, especially if they are saving you money on luxuries many people typically spend money on, such as gym memberships or billiards clubs. All these savings are true advantages of buying in a new real estate development in New York.
Additionally, many new luxury real estate developments offer other lifestyle services, such as doormen, concierge, and memberships to museums or other venues of interest. The Kent, located in the trendy Upper East Side, offers doorman these services 24 hours per day. Additionally, this development boasts a complimentary one-year membership to the Lincoln Center for Performing Arts.
7 West 57 offers a virtual concierge so that residents can conveniently schedule services, such as restaurant reservations, by phone or computer. 300 West, located in West Harlem, includes two reception areas and a lobby that is attended 24-hours a day. These types of amenities increase the value of the real estate, as they provide modern luxuries that tenants highly desire.
Luxury New York City real estate can be overwhelming to navigate, but the opportunity to invest in these new real estate developments makes them worth the thorough consideration. Thankfully, BARNES offers agents who have extensive experience working with luxury properties.
Our agents are informed of the materials and architectural subtleties that help add value to new properties, ensuring buyers get the best value possible. In addition, we are always on the lookout for unique amenities that will save our clients money and add convenience to their daily lives. If you are considering investing in a new property in NYC, please contact our fantastic team at BARNES New Developments.