New York City is bustling with opportunities for the buying and selling of property. It can be overwhelming to navigate the market, and finding the right real estate broker for you may prove to be a challenging task. Buyers want to ensure they are receiving top-quality service from their real estate agent and getting the best return on their investment. BARNES New York has some of the best real estate agents in New York City and offers a plethora of services to our valued clients.
The luxury real estate niche is booming in NYC. Buyers looking to invest in high-end properties should consider finding a real estate broker specializing in luxury properties, as there are factors to consider that may not be as relevant with other types of transactions. We are a real estate company that assists clients with buying, selling, and managing luxury properties in the New York area as well as all over the world, and we offer a multitude of experienced real estate brokers to assist you with navigating the market.
BARNES is an international, multicultural company equipped to assist buyers living in France, the United States, and other nations with the complex needs of working with luxury properties. We offer the best real estate agents in New York because we have a specialized team with diverse backgrounds, education, cultures, and experiences worldwide.
What types of experiences do BARNES real estate agents have?
Our BARNES New York team has been established in New York City for over 10 years. Although this branch is relatively young, many of the team members have extensive experience with property transactions around the world. For example, our managing partner, Yann Rousseau, has completed over 350 transactions since 2013, and some of our agents have over 20 years of experience working in real estate. Our long-standing dedication to the field helps us to provide outstanding service to our clients.
In addition, our BARNES New York & Westchester team brings a wide variety of educational backgrounds and experiences to real estate transactions. Several of the team members have graduate-level degrees in subjects such as law, environmental engineering, and international affairs. These diverse backgrounds inform our negotiations and provide a unique framework for approaching real estate.
BARNES values relevant experience outside of the field of real estate that can directly impact the quality of a transaction. We believe that we have some of the best real estate agents in New York because we offer services from professionals with a variety of experiences who are well-traveled and well-versed in luxury fields. In addition, our team members have lived in and traveled to many different countries and are used to being engaged in multicultural environments.
We have team members who have worked with international organizations consistently for the past 25 years. We also have agents with experience in luxury product sales, finance, and travel consulting. Having a diverse range of knowledge and experiences allows BARNES to provide optimal service to our clients.
How does BARNES provide outstanding service for clients?
Our agents are passionate about their work and are focused on keeping our clients satisfied. While some real estate brokers solely focus on property transactions, BARNES associates are concerned about all aspects of property management that are important to our clients. We take pride in helping the client get the most out of each investment and have the specialized experience to excel in the navigation of international luxury properties.
BARNES is not simply a company of real estate brokers—we also offer additional services for the acquisition and management of luxury items, such as yachts or private aviation through our partner BARNES IXAir. A major benefit of choosing BARNES is the ability to utilize multiple services without having to be involved with more than one company. BARNES is here to assist you with buying, selling, and managing your luxury properties as well as other high-end investments so that you can feel secure.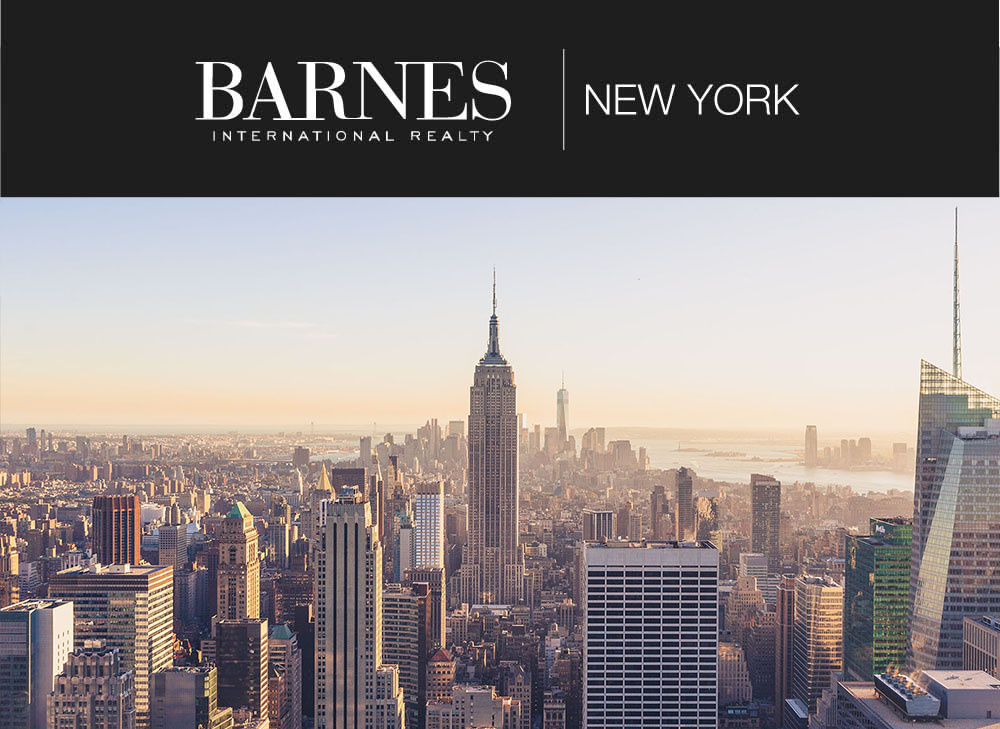 What makes BARNES unique compared to other real estate brokers?
New York is a big, thriving city with thousands of residents and countless real estate brokers. BARNES New York is unique in that we have a relatively small team of specialists. We believe that quality is more important than quantity, and we have chosen our team of 26 agents based on their passions, education, and experience with international luxury real estate.
Buying property internationally can be really stressful, especially if you live quite far from the property you want to purchase. At BARNES, you'll be able to find a real estate agent who understands how to work with people from all over the world. Many of our real estate brokers are multicultural and have lived in several places around the world in addition to New York City. For example, several of our agents were born in France, and many of them are multilingual. In fact, the many languages spoken at BARNES New York include French, English, Spanish, Italian, Portuguese, Russian, Greek, Serbian, Croatian, Hebrew, and Mandarin Chinese. The comfort of communicating with your real estate broker in your native language is sure to ease some of the stress of making such a significant transaction.
While we know there are many options when it comes to real estate agents in New York, BARNES is the perfect choice for your international luxury needs, as we offer real-world experience, multicultural and multilingual competency, and a variety of educational backgrounds.
Many of our real estate agents have lived in New York City for 10 or more years and are passionate about serving the community. We have experience with investment in our own communities and are dedicated to providing service that meets each client's individual needs. We are ready to support you with your luxury items and are here to provide professional guidance so that you can reap the greatest rewards from your investments.