By Annie Newman
Manhattan is often described as the financial and cultural center of the United States, and even considered by some as a world capital. Historically, it has been a constant attraction for tourists and immigrants from all over the globe and it is now recognized as one of the most desirable and exciting places to live and work. It is not surprising that the value of Manhattan real estate exceeds the sale prices of most metropolitan cities in the United States and around the world.
Why is it special to buy an apartment or home in Manhattan?
Those who call Manhattan their home feel a sense of tremendous pride and even though it is densely populated, people are willing to go the extra length to find their place in the city that never sleeps. The skyline of Manhattan is unmistakably recognized by people all over the world, including those who have never even visited New York. Songs, movies, television and theatre shows have been produced about Manhattan as it captivates the minds of all those who have heard of its bustling business and entertainment life. This massive metropolitan area has a record number of skyscrapers that offer some of the most incredible views in the world.
Owning a property in Manhattan is a prestigious advantage. Almost any apartment there can offer views that even penthouses in other cities don't offer. Due to the large population, the buildings in the city are known to be built as high rises and skyscrapers and many apartments offer spectacular sceneries since the structures are built with such elevation. Some of the world's tallest skyscrapers are found in Manhattan.
Manhattan real estate is in high demand
Manhattan not only has a large population, but it has an influx of workers from other boroughs or even states that commute there on a daily basis, creating a landscape that requires constant building and expansion. Every centimeter of land is precious and many in the construction industry have to win over bids to build more properties over those who want to try to maintain green spaces. This is the reason why one may find beautiful and spacious homes or townhouses for sale in Manhattan, but the main landscape can be seen from far as a city with tall buildings and limited space to build large private properties. Owning a home in Manhattan is truly glamorous.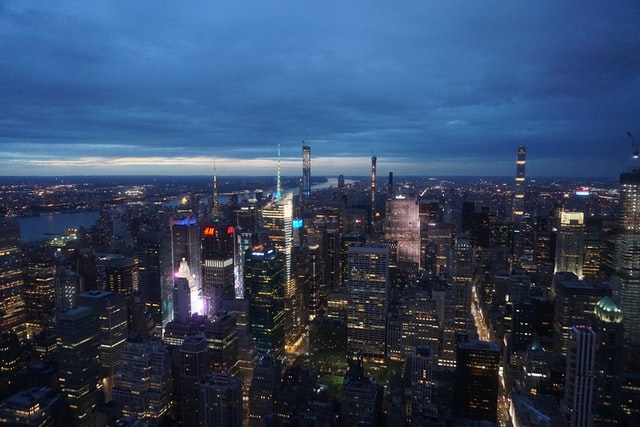 The city is known for its industrial past and some of the historical factories have been transformed into luxury and spacious lofts that can be found in many districts of Manhattan. The condos for sale reflect the prices of some of the most desired pieces of real estate in the world. Some apartments for sale in Manhattan can actually comprise of multiple floors and have as many rooms as a suburban house elsewhere in the United States. Unlike the suburban homes, these multi-floor condos offer breathtaking views at all times of a city whose lights shine and light up the sky from miles away.
Choosing a neighborhood or district to live in Manhattan is a wonderful experience as almost every corner of the city has special attractions for the local residents. Some people may prefer areas where the entertainment and theatres are world renown, others like the more quiet areas of the city. The city has mass transit subway and buses systems that create efficient and quick access to all areas of interest.
Local and International investment in Manhattan properties
Foreign investment in Manhattan real estate has been desirable for many people around the world who are looking to invest in valuable properties that are always in demand. Aside from investments, some people who reside in other cities who are looking to own a second home often choose Manhattan as their preference. Home owners in places such as Miami, Los Angeles, Paris, London and other big cities pride themselves to own a place to call their home in New York. Manhattan will always be on the top of the list of the world's most famous and attractive cities.
Manhattan's luxury real estate market
During the Covid pandemic, prices did fall to a certain degree but the real estate market in Manhattan is now bouncing back and is especially growing in the high end luxury property market. Some of the world's most expensive homes and apartments have been sold right in Manhattan and it is no wonder that the buyers chose this city as their residence. Not many people would accept to invest over 100 million dollars for properties in other cities but Manhattan is able to attract such great investment due to its special character. A Manhattan penthouse was sold for $238 million in 2019, making it one of the most expensive homes ever sold in the United States. It would be challenging to sell a property of that price range in most other cities across the continent! Real estate professionals know that living in a Manhattan home can be priceless. Having a presence in New York City by purchasing real estate there is exciting, profitable and unique. Every square foot of land and real estate has tremendous value and worth.
Manhattan is not only multicultural in regards to its population, but the actual architecture and buildings that comprise this city can vary greatly in style. Some residents and buyers prefer the more historical look of the typical New York apartment buildings while others are more impressed by the shine and glamor of the new constructions that offer more modern styles of living. Both types are charming because they either represent the long history of a city of opportunities or the new shine of a constantly growing and fast paced world superpower.
The real estate market in Manhattan is booming and experts are predicting that the trend of record sales and contracts will continue in the coming years. BARNES New York has the exceptional resources to provide you with all your luxury real estate interests and can guide you in your search for your dream Manhattan home or project. Our properties are unparalleled in prestige and luxury and we are looking forward to present you with the most exclusive places.