By Annie Newman
New York is one of the most attractive cities in the world to live in and attracts global attention since the beginning of its history. It is not only an exciting place to live in but it is also a world capital in many ways. It is the location of major financial institutions, world renowned cultural districts, the seat of the United Nations and has more population per square feet than most cities across the country. The real estate in New York City is priced at a high value due to its coveted status as one of the greatest metropolitan areas in the world. New York City consists of the following 5 boroughs: Manhattan, Brooklyn, Queens, Staten Island and the Bronx. They all offer unique homes, condos, lofts and apartments that only increase in value over time and can satisfy a wide array of lifestyle needs.
The New York City real estate market
New York apartments are quite in demand and regardless of price, often have many people eyeing the same homes for sale at the same time. One charming neighborhood in Manhattan named Chelsea, recently attracted hundreds of people to a two bedroom open house event where the line to enter had almost a 30 minute wait. Not many cities on earth can boast such a phenomenon. New York City apartments for sale are often difficult to choose from as there are so many neighborhoods and boroughs that offer exclusive living spaces. It is important to do the right research before investing in a luxury condo in New York or any type of home as each area has its own character. Many older residences offer high ceilings, large lobbies, decorative features, hardwood floors and historic charm. The newer constructions are built smaller and are usually found in high rises but do include more modern advantages than prewar constructions. Some New York homes for sale are more expensive but are built in quieter areas that have more of a suburban feel. The New York penthouses for sale offer incredible views of the Manhattan skyline that are truly breathtaking and worth the investment. One can spend days visiting the arts and cultural centers and museums around the city and the fast paced lifestyle of New York is inviting for all those who are looking for a fulfilling experience.
Neighborhoods in New York City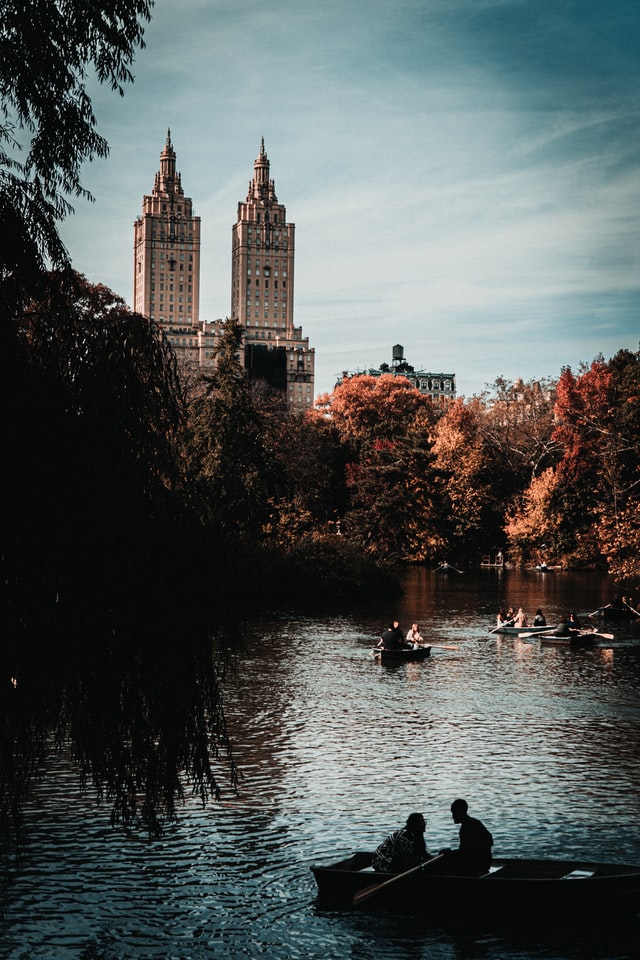 The Upper East Side in New York is known for its trendy and upscale homes, restaurants and shops. Part of Central Park and many museums surround the area that can be filled with tourists all year round. Purchasing or renting an Upper East Side apartment is a source of pride for many residents.
Chelsea is a Manhattan neighborhood that is quite central and has more townhouses and low-rise buildings that make the area more home-like than the skyscrapers of other districts. A lot of former factories have been transformed into art galleries, condos, and trendy upscale living spaces. It is mainly residential and doesn't reflect the more bustling neighborhoods that are in the financial districts. It has a lot of history and restored homes. SoHo in New York is another fancy neighborhood that includes many designer stores, high end shopping and elegant homes. It has a lively nightlife and attracts all types of artists and vendors.
The SoHo apartments in New York are well located and offer both historical styles of architecture as well as top of the line modern constructions. TriBeCa is a very expensive neighborhood of Manhattan that has a suburban look with cobblestone streets and multimillion dollar residences. It has a family friendly atmosphere and the TriBeCa apartments are usually high priced due to its special character as a quiet area in the big city. There are many lofts for sale that were formerly built as industrial buildings and have spacious accommodations. In a city that has over 8 million inhabitants, every square foot is precious real estate. Some families who are looking for a peaceful neighborhood in New York without having to commute to further suburbs in other boroughs can choose TriBeCa as a primary residence.
The Upper West Side of Manhattan is famous and its name is probably more recognized that many other New York districts. The area includes Central Park, one of the only preserved green spaces in the city, as well as many museums and is a desired zip code to live in. It has many affluent residents and notable structures and is also more convenient for families or people looking for a more quiet living space.
The Upper West Side of New York offers apartments that are luxurious, beautifully restored and have cozy living spaces. The streets are quieter and one does not have to be concerned with the loud distractions of the more densely populated areas. The East Village of New York is more known for its busy nightlife, bars, music venues and restaurants. It does include mansions and prestigious homes as well as row housing. It is a center for culture and the East Village apartments are well located for those who want more of a fast paced lifestyle. It is easy to access all the cultural venues that are so close by.
The West Village of New York is quite special in the sense that the city imposed the maintenance of the historic facades of many buildings and therefore the area has kept a lot of its historic charm. There are many theaters that display modern cultural trends and movements. In general, New York City itself is a mix of old and new, modern and historic, busy yet livable and exciting as can be for all those who call it home.
BARNES New York is at your disposal to help you choose the right New York City home for your needs and aspirations. We have a team of knowledgeable experts who can guide you through the process of purchasing your dream residence in the City that never sleeps.