Are you curious on how to buy a house on Long Island? Many people may not realize that the popular boroughs of Brooklyn and Queens are located on Long Island. Over half of New York City's residents live there, in just those two areas. However, all the eastern part of Long Island, all the way to Montauk in the Hamptons and the North Fork, are not considered part of NYC. But if you're looking to be close to the city but not in the thick of Manhattan, Long Island is an excellent option.
It's important to know exactly what you're looking for, and what you're getting into. Find your price range, and look at neighborhoods, not just properties. Commutes, schools, job opportunities, and noise levels are all things to consider before buying a home on Long Island.
What should you know before buying?
Depending on where you may be moving from, there are a few factors that may not have even crossed your mind when looking at to buy a house in Long Island. While Long Island has been rated one of the top 50 best places to live in the US, you need to determine if it is indeed the best place for you.
Dress for the Weather
New York is a state with all four seasons. This may seem obvious for some, but not so much for others. What this ultimately means for residents is that the summers are very hot, and the winters are very cold. There are pros and cons to each season, and it certainly gives you a good variety of recreational activities throughout the year.
Summer on Long Island is excellent for beach trips, boat rides, sporting events, camping trips, and more. Winter brings you sledding, ice skating, skiing, and usually, a very white Christmas. Whatever season is your forte, be sure to come prepared for everything the Northeast has to offer.
Cars are not (always) necessary
Like most of New York, Long Island is primed with public transportation in the Western part. In 2020, New Yorkers who drove spent an average of 56 hours in traffic. Finding alternative transportation decreases the time spent waiting in traffic and significantly reduces the amount of pollution in any given area.
In 2020, the Northeast alone saw a 30% decrease in air pollution due to the lockdowns and fewer people being on the road. New York is well on its way to being car-free, with only 46.5 percent of NYC households owning vehicles at all. The Long Island Railroad is a popular alternative means of transportation, along with the Subway, Ferries, and biking.
But if you like to drive, all the Eastern part of Long Island is perfect for driving and much more car-friendly. So you can easily enjoy a short drive to the beach!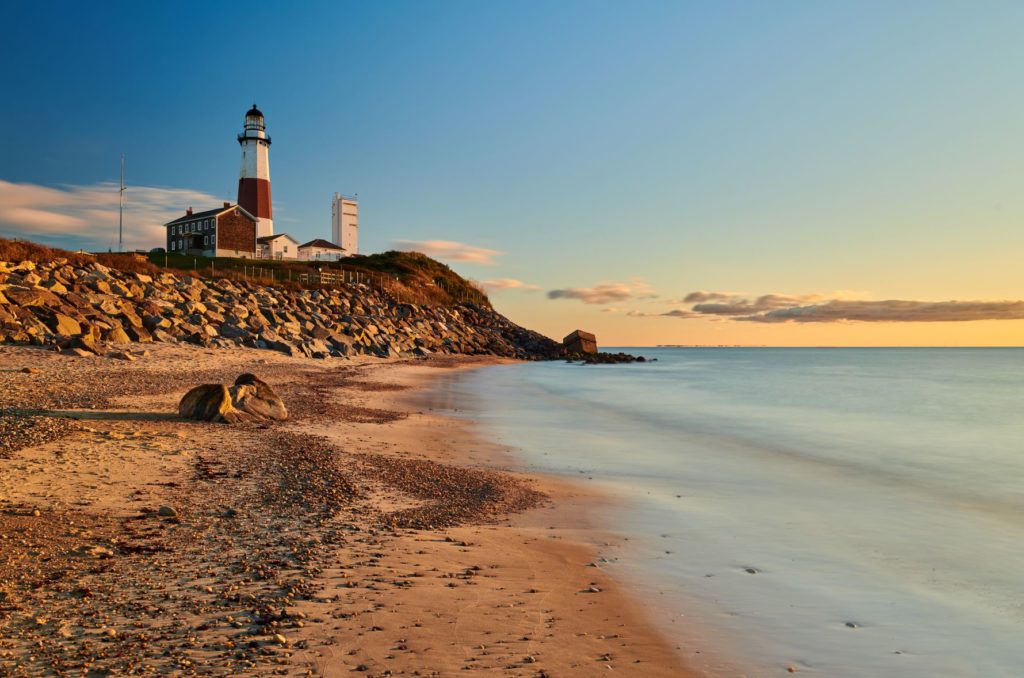 Cost of living & taxes
Despite being off the city main, Long Island is still one of the most sought after and coveted places to live in New York. Demand is high, and so are the prices. A single-family house in Long Island, all areas included, costs on average around $750,000 in Quarter 2, 2022. As a comparison, the Hamptons, the most eastern part of Long Island, shows an average sales price of $3 million.* On top of paying a mortgage, Long Island also has some of the highest property taxes in the country.
*Data from Miller Samuel
Is Long Island a good place to live?
Nassau County is known for its excellent recreational areas, eateries, and charming storefronts. Neighborhoods such as Great Neck Gardens, Jericho, and Manhasset Hills have a plethora of restaurants, coffee shops, and storefronts but can also give residents a suburban feel.
Suffolk County, the largest county on Long Island, is one of the most expensive places to live in the US. If you are looking for a quiet, suburban feel while still being close to the city, this may be your place. There are many luxury apartments along the coastline with beautiful views and amenities. If your budget is a little higher, there are beautiful mansions and villas right on teh water! Some of the most desired neighborhoods include Lloyd Harbor, Cold Springs, and Dix Hills. Median homes for these neighborhoods range from $700k-$1.5M. Long Island is also an extremely culturally and ethnically diverse area.
What steps should I take toward buying a house on Long Island?
So you've done your research, and you've determined that you definitely want to buy a house on Long Island. What next? Here are some tips that will help you in your journey.
Organize your finances. Credit score, bank statements, tax returns, W2s, Social security numbers, divorce decrees—these are all things you will need on your journey to buy a house on Long Island.
Get Pre-approved. Determine your budget, what kind of loan you will need, and look at interest rates. You can put in an application before even looking at homes to get pre-approved.
Find a realtor. This is especially important if you're not from the area and can't physically go see each home as you search. Instead, find someone local who knows the local market and will be honest with you about your options.
Make an offer. Make an offer on a property that you feel is right for you, whether it was "love at first sight", or one that took a little while to sleep on.
Get an inspection. Once you have found a home, it's very important to get it appraised and inspected.
Once you've finalized your budget, worked with a realtor, and found your perfect home, the rest is history. Depending on the market, your first offer may not get picked, but that's okay. Keep looking, and you will find the perfect Long Island home for you. Long Islands' gorgeous skylines and sunsets, greenery, and seasonal variety are worth the time it takes to find an amazing property. For more information and the best listings in Long Island, contact BARNES New York.