Interview by Rachel Brunet, director and editor-in-chief of Le Petit Journal New York
BARNES New York invites you in its series of articles untitled "New York City Neighborhoods", where you can regularly discover the different districts of the city, in the eyes of French speakers who have settled there. They tell us all about their neighborhood, in their words, their tastes, their habits. Today this article is exceptionally written in the first person because I personally invite you to follow me to my neighborhood: Hudson Heights. I am Rachel Brunet and I am the director and editor-in-chief of Petit Journal New York. I'm telling you about this little-known neighborhood, maybe because it's hidden away, up there in Manhattan …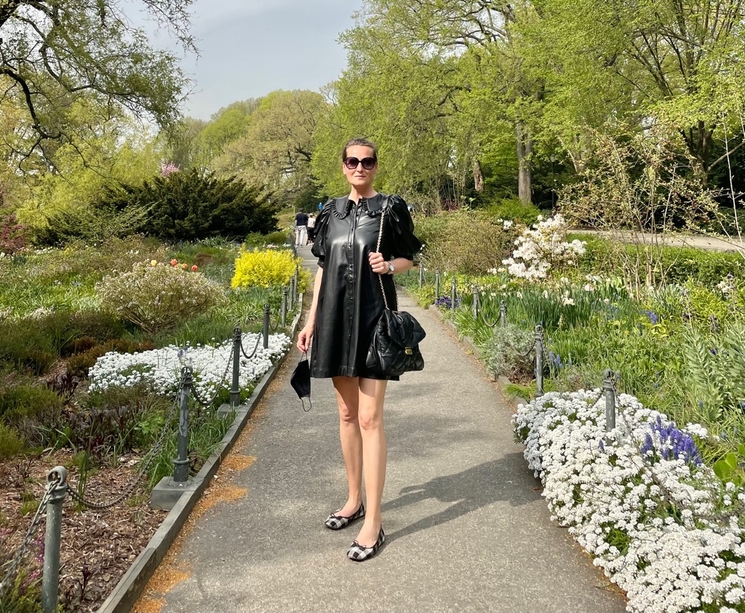 A family-friendly neighborhood
I moved to Hudson Heights in January 2019. A neighborhood that I had absolutely no knowledge of and which, over time, has completely conquered me. Basically, it was the rent prices that drove me to move north to Manhattan. Admittedly, an apartment of over 100 square meters and three bedrooms for less than $ 3,000 does not leave room for too long a reflection. Especially when the express metro is almost right downstairs of your building.
Station 175. "It's far away," some friends told me, "it all depends on where you are going," I retorted. I quickly realized that in less than 40 minutes, I was still connecting my daily destinations. So, no, it's not too far away. And frankly, in 2020 it was far from nothing …
Hudson Heights is a neighborhood that stretches from George Washington Bridge – itself located at 178th Street – to Fort Tryon. And from the Hudson River to Broadway. A small, secluded haven in Washington Heights, between the Hudson River and Fort Tryon. From street to street, English gives way to Spanish, the official language of this Hispanic neighborhood of Washington Heights. But in Hudson Heights, everything changes. As elsewhere in the city, this district is a joyous melting pot of communities. There are Americans, and many communities from Eastern Europe. There is also a strong community of the Jewish faith. In the course of my urban wanderings, I often come across an image that sends me back to France. Most of the buildings here were built in the 1930s, and some are Art Deco inspired. It reminds me of Boulogne-Billancourt, just at the entrance to the Bois. On Pinehurst Avenue, across from Bennett Park, Hudson View Garden. A residential complex. Inside, small alleys, well-tended grass, a pond with large fish, a flower garden. Absolute serenity. Architecture brings me back to Trouville-sur-Mer. Half-timbering is everywhere.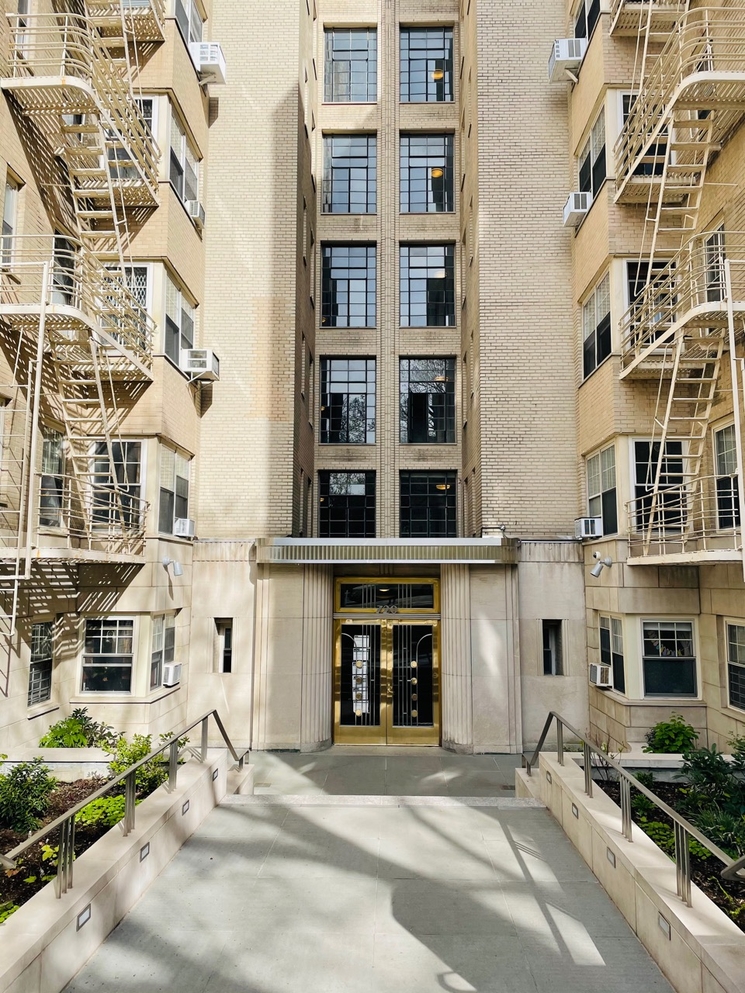 181st Street is the street for restaurants. Japanese, Italian, Thai, American, there is something for everyone and the prices are very affordable. There is really something for everyone too since there is even Café Bark, a cafe for our four-legged friends … New York will always be New York. On the 181, I have my little habits, between the Thai restaurant Tung Thong 181 and the Japanese restaurant Sushi Yu, my heart is still swinging. Not to mention Le Chéile and its superb pink terrace reminiscent of the Canal Saint Martin. Eight streets to the north, another spot for restaurants and shops. Here again, I'm used to it. Fresco's Pizza, the best in New York according to my son or Kismat, the Indian restaurant in the neighborhood. But also, my little Ozzie's supermarket. And hold on tight, I'm constantly discovering French products that are much cheaper than elsewhere in Manhattan. Jams, pains au chocolat, baguettes, brie, this shiny supermarket is my Ali Baba cave.
A little further up 187th Street, an exceptional wine shop, Vines on Pine, with a large selection of wines from all countries. The owner's joke: tell me "have a good one, kid!"
Manhattan's highest point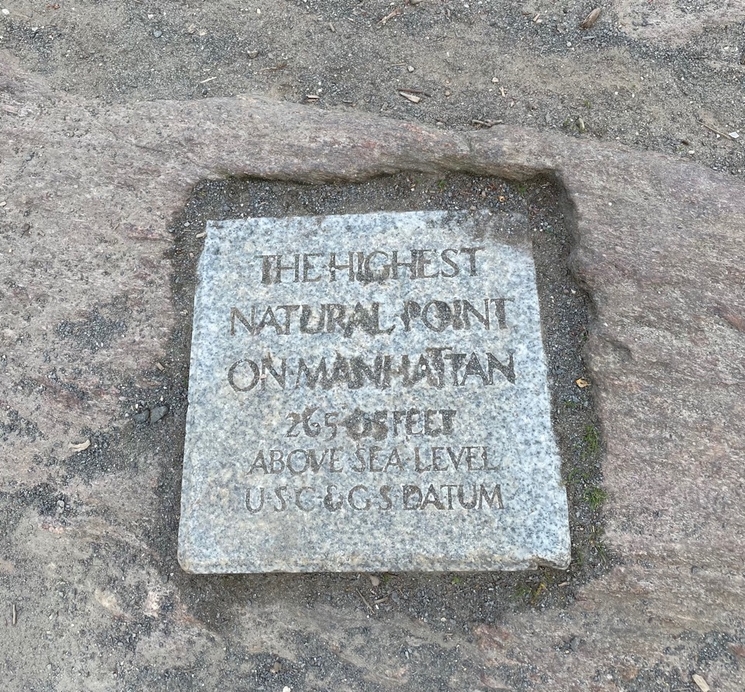 When I think of my neighborhood, I think "up" or "down". And it's not for nothing. In Bennet Park, nestled between 183rd and 185th Streets, is a treasure, little known to New Yorkers: Manhattan's tallest natural point. 265 feet above sea level, the level of the Statue of Liberty torch. Suffice to say that it goes up and that it goes down. What a surprise the first time I found myself at the bottom of the long staircase to 181st Street. For a few seconds, I couldn't tell if I was in New York or Montmartre.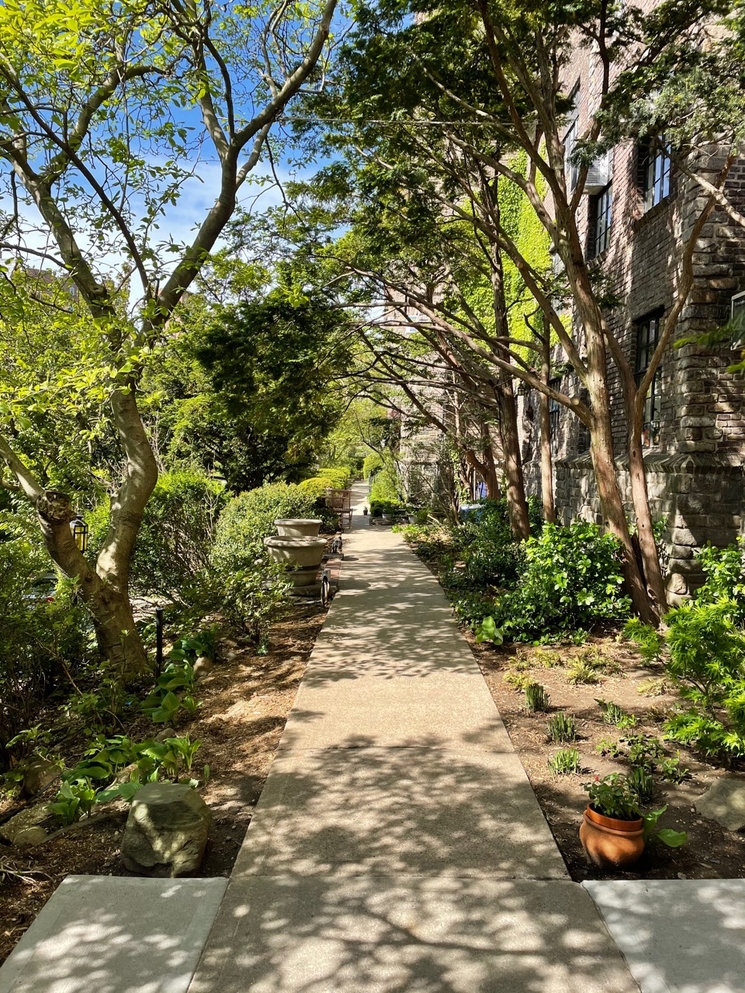 Bennett Park is the meeting place for parents and children from this very family-friendly neighborhood, but also for older people who come to catch a ray of sunshine in the spring or a little cooler in the summer. It is not uncommon to see a group of musicians there, residents of the neighborhood. Their voices mingle with the cries of the children, each day a little more numerous. A little happier. For the record, this park is built on the site of the old Fort Washington where the Continental Army routed the British troops in 1776.
My pleasure in this area: take Cabrini Boulevard and go up to Fort Tryon. I walk along Birds of Cabrini Woods Nature Sanctuary. The wood is located at the southwest corner of Fort Tryon. A natural sanctuary, it is a favorite spot for bird watching and stunning views of the Hudson and Palisades across the river.
Cabrini boulevard ends at the entrance to Fort Tryon, a veritable urban forest that is home to The Cloisters, but not only! Coyotes, raccoons, opossums, groundhogs, snakes, bees, butterflies, and thousands of squirrels share this vast 27 hectare land, in addition to 81 species of birds, including hummingbirds and hawks. At the entrance to Fort Tryon, Heather Garden – many times voted the city's finest garden – a pathway overgrown with flowers and shrubs, 60 meters above the Hudson. In summer, I often see hummingbirds there … My little piece of paradise …
In a few weeks, I'll be leaving this neighborhood, life taking me further down in Manhattan, but still near a park. I won't tell you which one …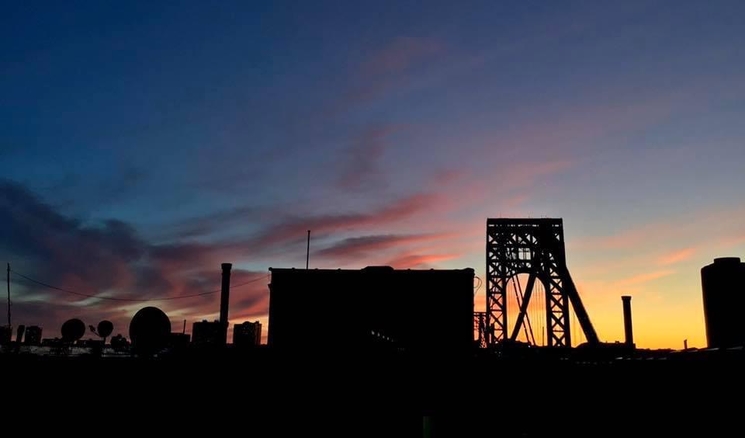 Experts Discuss – Hudson Heights
Rental market:
As of January 2021, the average rent for an apartment in Hudson Heights is $1,600 for one bedroom, $2,500 for two bedrooms and $2,995 for a three bedroom apartment.
Sales market:
In December 2020, across Hudson Heights, the median asking price of sellers for available properties was $590,000, up about 3% year-on-year to $672/square foot. The median recorded final sale price is $780,000. This difference is mainly explained by the low number of transactions as a result of the Covid period, which significantly slowed the market in 2020 and therefore reduced the reference sample.
Interview by Rachel Brunet, director and editor-in-chief of Le Petit Journal New York