Manhattan is a beautiful city filled with diversity, vibrancy, and plenty of activities. It is a great home for people of all backgrounds, and there is something for every resident there. But unfortunately, as Manhattan grows and expands, the housing price in Manhattan are constantly on the rise.
Of course, they are subject to the location and neighborhood that the homes are in, but finding an apartment or condo for a low price is usually rare. Still, apartments in Manhattan are beautiful, and finding the right place to call home within the city is important. Depending on the area, the housing price in Manhattan varies.
So if you're looking for a property in Manhattan, whether it's a co-op, condo, penthouse, townhouse, or simply something with an incredible view, continue reading to learn and understand housing prices in Manhattan.
What factors determine housing prices?
The housing price of an apartment in Manhattan depends on three main factors: age, type, and location. If the apartment is older and a bit run down, it naturally will be cheaper than buying a brand new and up-to-date apartment. Because of this, it is important to decide what accommodations are important to you and which ones you can do without. In older apartments, the structure of the building may be less sturdy, and, of course, the wood will be much older.
The type and size of the building will also sway the price of the apartment greatly. Apartments that are small and compact will cost less than open and large apartments. Having an idea of how big you would prefer your apartment to be will give you a set goal and a specific range of apartments to look at.
Additionally, co-ops are cheaper options than condos by an average of about $100,000. The average price for a square foot of a co-op is almost $1,800, while the average for a square foot of a condo is well over $2,000. Even so, buying a condo is better for investors as well as renting out your property.
The location of the building is also important in determining the cost and risk of an apartment. What neighborhood is it in? What area of said neighborhood is it in? Is it more residential, or bustling with restaurants, shops and cafés? These are all essential questions that will decide the cost of the co-op or condo for sale in Manhattan. Also, the view outside the apartment's windows can either make or break its price overall.
What is the price in Tribeca?
Tribeca is a beautiful, chic, and luxurious neighborhood to live in. It is filled with 5-star restaurants, classy shops and boutiques, and high-class residences. In addition, there are plenty of places to work along with beautiful office spaces. Because of this, buying an apartment in Tribeca can be profitable and rewarding when all is said and done.
If you are looking to rent out an apartment here, it is practically guaranteed to fill in quickly. With this luxury, though, comes a high price tag. The median price of a condo here is $3,350,000*, and often you must have over $1,000,000 that is ready to be put down on it first. The median price of a co-op here is $2,740,000*. Apartments in Tribeca are some of the most expensive in all of Manhattan, but are nearly always high-quality and gorgeous.
*Data obtained from UrbanDigs
What is the price in the East Village?
The East Village is the perfect place for those with a knack for art and nightlife, and the crowd here is a bit rowdier than in other neighborhoods. It is easy to meet people of all different cultures, and just as easy to create long-lasting friendships. It is filled with bars, music venues, lounges, casual cafes, and many more spots to relax and socialize.
With this being said, apartments in the East Village are chic and often have a rustic appeal. The median price of a condo here is about $1,740,000* and the median cost for a co-op is about $815,000*. This means you must have about $200,000 ready to put down.
*Data obtained from UrbanDigs
What about NoHo and SoHo?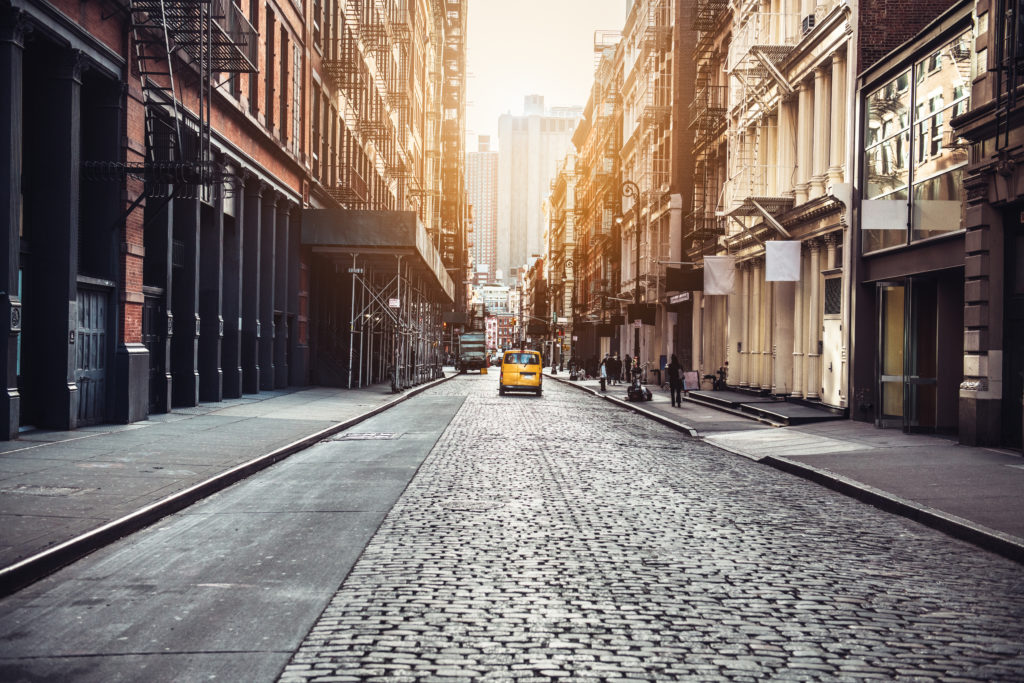 NoHo is known for its free-flowing and fluid atmosphere, as well as its classiness and bohemian style. NoHo has all kinds of apartment styles, ranging from small to big and old to new. NoHo is filled with cute boutiques, small mom-and-pop shops, and casual cafes. Creative people from all over the world live here for their unique style and humbleness. NoHo in Lower Manhattan is one of the most expensive neighborhoods to live in, alongside SoHo and Tribeca. The median price of a condo here is about $5,900,000*, and about $3,200,000* to buy a co-op.
*Data obtained from PropertyShark
SoHo is famous for its infinite shopping plazas and unique fashion. If you have a love for clothing, SoHo is the place to be. There are plenty of boutiques and shops, both those with major brands and some that you cannot find anywhere else. SoHo takes on a bit of a faster pace than NoHo, but is still a beautiful neighborhood. It costs about $3,790,000* to buy a condo here, and about $2,380,000* to buy a co-op.
*Data obtained from UrbanDigs
What are the housing prices like in Chelsea?
If you enjoy NoHo and West Village, you might just love Chelsea. Chelsea is filled with residents that hold art and creativity close to their hearts, and just being in the neighborhood is enough to bring about inspiration.
There is street art, numerous art galleries and exhibits, and unique landmarks, all of which make the neighborhood stand out from those surrounding it. A condo apartment in Chelsea costs about $2,840,000* and co-ops cost about $800,000*
*Data obtained from UrbanDigs
The right price for you
The housing price of a Manhattan apartment depends on the size and type, age, and location of the condo or co-op. Of course, there are many other neighborhoods to buy an apartment in, and making such a big purchase requires thorough research and decision-making.
By finding the right neighborhood that fits your budget and needs, you're sure to find the perfect apartment that's right for you. BARNES New York can help with your project!