Artwork installed at BARNES New York in partnership with G&O ART
BARNES is proud to announce its partnership with art promotional agency G&O ART, leading to the installation of ten remarkable pieces of art showcased at the BARNES New York office in the heart of Manhattan.
You'll be able to discover conceptual x-ray photography from photographer David Arky, striking and innovative still life visuals that offer a new perspective on many aspects and items of our daily life. David Arky was one of the first photographers to see the artistry in X-ray images. The discovery of the revealing contours and textures not yet examined by the naked eye unlocked a secret and intimate world that fascinated him. An inner life is uncovered in the nature of x-ray photography and in the actions of the subjects. Static props from everyday life become animated and humanized with recognizable personas.
You'll also get a glimpse of Christine Robion's work, a sophisticated graphic style and painting technique that is profoundly linked to a deeply personal narrative, a reflection of her attitude to life. Her paintings derive from recovering traces, discreet or anodyne. Upon a frame of superimposed images are found all kinds of paper: tickets, letters, newspapers, fragments of personal notes either handwritten or printed. All these materials are drawn from the artist's life and become the form and content of the work.
Finally, be seduced by VALANTIN's abstract photography, halfway between photography and painting, between reality and dream, giving the urban landscape a new, more artistic dimension. The specific works installed at BARNES are part of a series of photos taken from a bridge overlooking the "périphérique" (a sinister beltway around Paris). By creating abstract shapes using the slow shutter speed shooting technique, VALANTIN was able to "sculpt" the light and draw figures that evoked musical notes.
---

G&O ART is a representative and promotional agency for international contemporary artists, a unique art source-expert catering to Private and Corporate Collectors, International Institutions and Foundations, Hospitality and Luxury industries, Galleries, Art Dealers and Museums. Basing its success on close working relationship with all clients, G & O ART provides a wide range of visual arts of nationally and internationally recognized as well as emerging artists.
---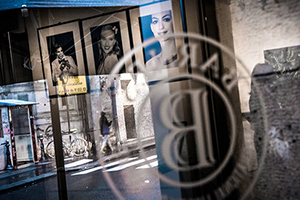 Dynamic player in the art market since 2000, at the instigation of its founder Heidi Barnes, BARNES Art advisory supports young talent in contemporary creation through a programme of exhibitions and Art installations at prestigious venues where the brand is established and through partnerships with major artistic events (FIAC, PARIS PHOTO, etc.).