Have you finally decided to buy an apartment in New York City? After all, the city's real estate market has been historically strong and survived all crises and major events. What are the important things to think about when buying an apartment in the Big Apple? We'll tell you all about it.
Why Invest in New York?
With more than 8.2 million people, New York is undoubtedly the densest city in the United States. The "Big Apple" is one of the largest financial, cultural and business centers in the world. Its influence in the fields of politics, education, entertainment, media, fashion and art undoubtedly makes it one of the major world cities. The city offers an excellent quality of life, household incomes are high and it is full of cultural activities and entertainment.
The City of New York has one of the most developed and integrated economies in the world, with more than 200,000 companies identified. The New York metropolitan area alone hosts 53 "Fortune 500" companies – more than any other metropolitan area in the United States.
New York is also a hub of international trade. With London and Tokyo, it is one of the three command centers of the global economy. This is the reason why so many international companies have established their headquarters in Manhattan. One employee out of ten in the city's private sector is working for a foreign company.
The city is a major center in the fields of finance, insurance, real estate, media and art in the United States. Greater New York alone generates almost 10% of the total U.S. GDP. Although the economy is diversified, high-paying jobs in financial services still represent more than 35% of professional income of the city.
Buying an apartment in New York City: co-op or condo?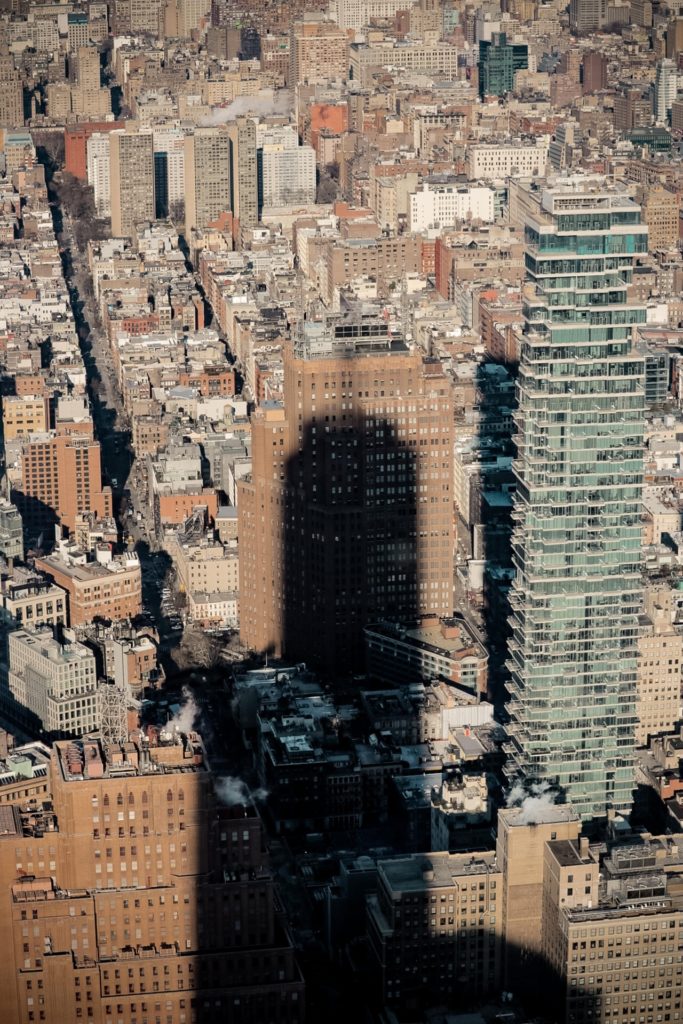 One of the first questions you would need to ask yourself when buying an apartment in New York City is whether you would be more interested in buying a co-op or a condo and what advantages each would have. First things first, this division is a feature rather unique to the New York City real estate market. What is a condo? And what exactly is a co-op?
A condo or condominium allows buyers to acquire full ownership of an apartment in addition to a percentage of the building's shared areas. At closing, buyers receive a deed, as if buying a house.
A co-op or housing cooperative only allows buyers to acquire shares in the corporation, which functions as the residential building. Keep in mind that the size of the share reflects the size of the unit that the shareowner will occupy. At closing, buyers receive a proprietary lease, detailing the share owner's right to live in a particular unit or apartment.
Luxury condos and co-ops do not differ physically and offer the expected amenities: doorman, in-building superintendent, concierge, storage, etc. However, the more upscale the building, the more upscale amenities, such as daycare centers, spas, gyms, dog facilities, etc. Of course, these factors will depend on the Manhattan (or perhaps even Brooklyn) neighborhood you choose to buy in and your budget. A crucial difference lies in the fact that a condo is considered "real property" and a co-op share "personal property".
Main expenses as an owner in New York City
1/ Property Tax
This is an annual tax computed based on the value of the property. The tax is between 1.5% and 2% of the assessed value of the property (assessed by a County Appraiser). This value is usually lower than the purchase price of the property (10 to 30% lower).
2/ Common Charges (for an apartment in a condominium)
These costs can vary and depend on the building or the community in which the property is located. Your agent will let you know the common charges of each condominium you will see during the showings. They are to be confirmed at the time you receive the financial report of the condominium.
3/ Insurance (Hurricane, flood, property)
Different quotes from insurance brokers can be requested to know your insurance costs. Homeowners insurance is often a requisite for closing, especially in the case of a mortgage. Wind and flood policies are not mandatory if the property is not bought with a financing clause.
4/ Accounting
Please feel free to contact us for recommendations of accounting firms and lawyers specialized in real estate acquisitions and fiscal law.
Not always on site? Think about property management
Are you the owner of one or several apartments for rental purposes and you want to make sure to have regular and optimized rental income? Do you perhaps own a secondary residence, or a "pied-a-terre", about which you would like to have peace of mind when not using it yourself? When buying an apartment in New York City, you might want to entrust the management of your rental property. BARNES real estate consultants are rental and property management experts in New York. Our agents are experienced with a true knowledge of the local real estate market and a comprehensive expertise to perform all property management tasks and assist you with every technical, legal, and tax requirements related to your assets. From maintenance to rent collection, as well as the drafting of the leasing agreement, condominium management, administrative constraints and the search for new tenants, everything is handled in-house. With full-time dedicated property management personnel.
We offer services packages:
A. RENTAL PACKAGES
Accounts opening (electricity, water, internet, phone, cable)
Tenant profile and history checking
Inventory, in/out
Collection of rents, payment tracking and application of penalties in case of delays
Troubleshooting and repair organization (leaks, air conditioning, electrical appliances…)
B. ADMINISTRATIVE PACKAGE
Payment: invoices, condominium costs, loan, property tax, insurance…
Quarterly accounts shipping
Availability and efficiency of the application process
BARNES New York is at your disposal to help you in your real estate project to buy an apartment in New York City, thanks to a strong team of experts to assist you in all aspects of your real estate or lifestyle ambitions.