New York concrete is precious, it's no secret. Manhattan is the most popular neighborhood in the entire New York area, and one of the densest ones. It is the core of New York City, so no wonder the real estate market, especially apartments, is highly competitive in that part of town. Let us take you through the best locations, price estimate and real estate market updates for people who want to buy an apartment in Manhattan.
Buying an apartment in Manhattan: what is the right neighborhood?
Let's have a look at the main neighborhoods where you might want to buy an apartment in Manhattan. Manhattan is the core of New York city, and comprises many different neighborhoods and sub-neighborhoods, all of which defined by their own identity and atmosphere. If you want to buy an apartment, Manhattan will satisfy you, whether it is with a loft in Трибека предлагая волшебный вид на Нижний Манхэттен, или красивая квартира между небоскребами Midtown или же Юнион-сквер, a renovated duplex in the heart of Деревня Гринвич, or the end of it, a penthouse on close to Central Park.
Downtown Manhattan
Downtown Manhattan roughly refers to the area below 14th Street, and is then sub-divided into many different areas. The most prominent ones would be the different villages: East Village, West Village, and Greenwich Village. Downtown Manhattan is also where the Финансовый район, also known as FiDi, is located. A very historical part of town, this is where several ethnic neighborhoods established themselves naturally, including Chinatown, Little Italy, and the less famous Little Syria or even Little Australia for example. One of the oldest neighborhoods of the city, the Нижний Ист-Сайд was also an important immigrant neighborhood.
Of course, Сохо is the preferred location of many artists' lofts and art galleries, famous for its « Cast-Iron » architecture. Tribeca, the "Triangle Below Canal Street", comprising of West Street, Broadway and bounded by Canal Street, has grown to become one of Manhattan's most fashionable and desirable neighborhoods, well known for its celebrity residents.
Midtown neighborhoods
Midtown neighborhoods incorporate many of the most famous tourist attractions of New York City, like Times Square, the Rockefeller Center and Madison Square. Hell's Kitchen and Garment District have also become increasingly popular, with many ethnic restaurants and tree-lined streets.
Hudson Yards, Челси и NoMad are also great neighborhoods, very close to the action and liveliness of the city, located in between Midtown and Downtown.
Uptown neighborhoods
Uptown neighborhoods are affluent, primarily residential area, with luxurious properties and apartments along both sides of Central Park. The Upper West and East Side, Lenox Hill or Hudson Heights, are all neighborhoods that are praised for their « Pre-War » architecture, colorful communities and rich cultural life. Those neighborhoods enjoy many of the benefits of living in a prosperous area, with many boutiques, art galleries and five-star hotels.
Диверсифицированный рынок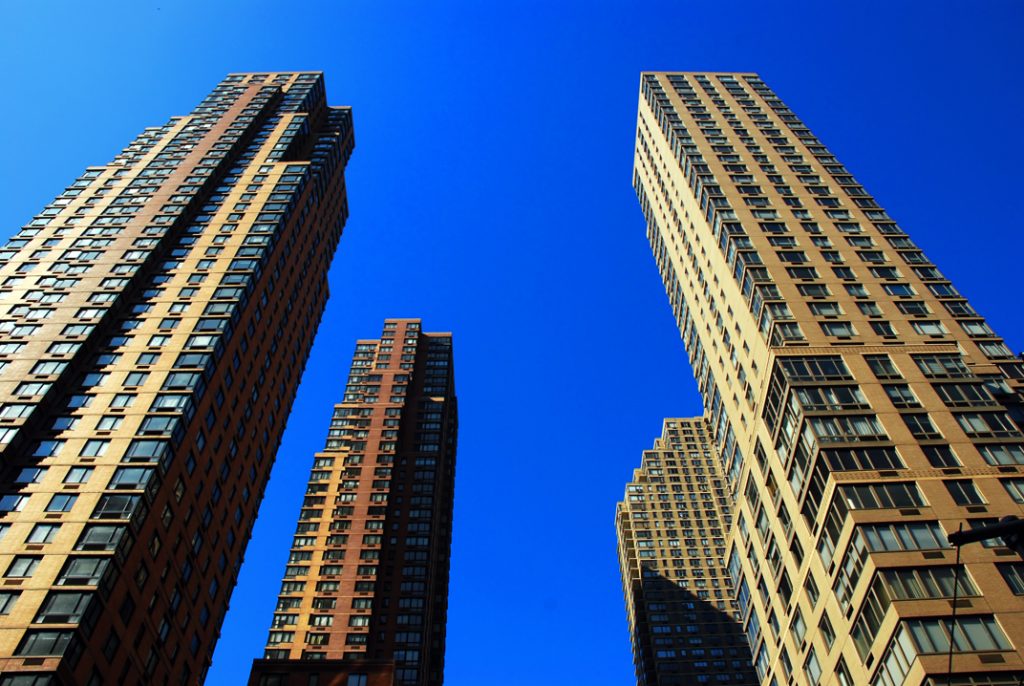 Больше, чем в любом другом городе, Манхэттен построен вертикально. Город до недавнего времени был рекордсменом по количеству самые высокие здания в мире и имеет впечатляющее количество модные крыши где вы можете пойти выпить наедине с Эмпайр-стейт-билдинг или освещенным горизонтом. Это также означает множество квартир и свойств в башнях бесконечной высоты.
Whether you are interested in buying a condo or a co-op, a luxurious loft, or a more affordable studio in a less affluent part of the main island, you will be able to find a place that suits your needs. The Manhattan real estate market is and has been strong and growing, in a city that has proven to sustain any crisis and major swings throughout History, and thus stays a solid investment. The appeal of dense urban living can be a deterrent for some, but is also a complete lifestyle of its own, and a city like New York City can also be attractive, with a vibrant cultural and artistic scene, nightlife, parks and historical attractions, and a multi-cultural environment where anyone can feel at home.
По какой цене? Рынок недвижимости на Манхэттене
You can find apartments of every sizes and layouts, and with various amenities. Exterior spaces like balconies, terraces, or courtyards, whether commonly shared with other residents or private, are highly sought, especially in the post-Covid-19 era, allowing for an escape from the cramped indoor spaces that most apartments in big cities consist of. Having a garden or a terrace at the top of a building is a привилегия это дорого Манхэттену, если ты готов заплатить цену: you can then have a rooftop with grass, trees, gardens, atriums and even a swimming pool or jacuzzi… Only the New York skyline is the limit.
Что касается рынка недвижимости Манхэттена, то первый квартал 2021 года оказался успешным: медианная цена продаж выросла на 1,41 трлн за 1 тыс. По сравнению с аналогичным периодом прошлого года.
Regarding condos specifically, the number of sales exceeded the year-ago total for the first time in four quarters, and one-bedroom apartments experienced the fastest annual market pace of all size categories. 2-Bedroom apartments represented the biggest sale share, followed closely by 1-Bedroom, with a respective Median Sales Price of $1,866,750 and $945,500.*
Coops followed a similar trend, with a number of sales that more than doubled since the end of the spring lockdown. It also represented a similar market share as condos, with 1-Bedroom being the most representative sales share and a Median Sales Price of $670,000 and 2-Bedroom apartments with a Median Sales Price of $1,204,000.*
The market is expanding, and buying an apartment in Manhattan has the advantage of relying on a strong market that was able to remain stable, even after several crises. New York City will always be New York City, after all!
* Отчет Миллера Сэмюэля: Q1-2021 Манхэттен, Нью-Йорк Продажи
BARNES New York находится в вашем распоряжении, чтобы помочь вам в вашем проекте недвижимости, чтобы купить квартиру на Манхэттене, благодаря сильная команда экспертов чтобы помочь вам во всех аспектах ваших амбиций в сфере недвижимости или образа жизни.