New York Sate is huge in size, and mostly famous for the most iconic city in the US, the symbol of Liberty and the American Dream: New York City. However, there is a lot more to New York than the Big Apple. Upstate New York consists of the entire area lying north of the New York City metropolitan area, usually excluding Westchester and Rockland Counties. The area is obviously a lot more rural and representative of the North-Eastern countryside. There are many advantages to buy a property in Upstate New York, especially if you like quiet and calm environments to recharge.
Hermosos paisajes para los amantes de la naturaleza.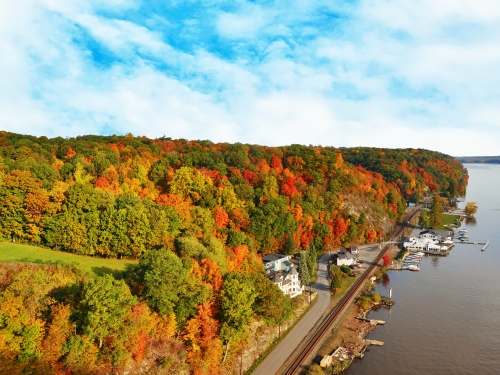 Due to its vast areas of rural lands, Upstate New York also supports a strong agricultural industry, and is notable for its maple syrup, dairy, and fruit production, as well as famous winemaking. It is split from North to South by the Hudson river, and is bordered on its northern and western edges by the Saint Lawrence River and the Great Lakes. Upstate New York is home to several popular tourist and recreational attractions, including the Niagara Falls, as well as the Adirondack and Catskill Mountains. Beautiful landscapes are thus all around Upstate New York, and will suit you if you are a fan of nature.
La mayor parte del norte del estado de Nueva York se caracteriza tanto por comunidades rurales agrícolas y boscosas como por ciudades pequeñas y medianas y los suburbios circundantes ubicados a lo largo de los principales corredores de transporte. El mercado inmobiliario en el norte del estado de Nueva York puede variar mucho, desde casas unifamiliares hasta condominios en las ciudades más grandes o villas a orillas del lago. El norte del estado de Nueva York continúa presumiendo de bajos índices de criminalidad, altas perspectivas educativas y artículos básicos diarios fácilmente asequibles.
Algunas ciudades importantes
Búfalo
Buffalo is the second-largest city in New York State (after NYC), with a population of 254,290 people. It is located on the Eastern end of Lake Erie, close to the Canadian border with Southern Ontario. The city has historically been an important economic center for the Western New York region, thanks first to the use of the Erie Canal, and later the implementation of several big companies headquarters in the area. The city is divided into five districts, each composed of several neighborhoods, with various recent redevelopment and the establishment of mixed-use projects. Buffalo is also home to Performing arts and music facilities, including over 20 theater companies, as well as cultural institutions and festivales famosos. Para los fanáticos de los deportes, Buffalo tiene dos equipos deportivos profesionales importantes: los Buffalo Sabres (Liga Nacional de Hockey) y los Buffalo Bills (Liga Nacional de Fútbol). También hay más de 180 parques y centros recreativos en la zona. La Universidad de Buffalo es la universidad pública más grande de Nueva York y atrae a una población joven y activa a la ciudad.
Rochester
La ciudad de Rochester, al noreste de Buffalo, se encuentra en el centro de una gran área metropolitana con una población de alrededor de 1 millón de personas, distribuidas en seis condados. Es conocido por su cultura, en particular su cultura musical, múltiples festivales importantes cada año y varios museos de fama mundial. El metro de Rochester tiene una clasificación alta en términos de calidad de vida y, a menudo, se considera uno de los mejores lugares en los EE. UU. Para familias debido al bajo costo de vida y las escuelas públicas de alta clasificación. También podrá probar algunas especialidades gastronómicas locales de Rochester, como el "hot hot", una variante del hot dog, o el delicioso "Garbage Plate". Rochester es una ciudad agradable y ofrece muchas casas y hogares en sus suburbios del sur ricos y bien educados.
Siracusa
Syracuse is the fifth-most populous city in the state, and the economic and educational hub of Central New York. Major crossroads between the Erie Canal, its branch canals and the railway network, Syracuse is home to the most renowned universities campuses, as well as museums and art galleries, festivals… In Central New York, the median existing-home price for all housing types in April 2021 was $341,600, up 19.1% from April 2020 ($286,800), proving that there is still room for a growing market in the area. Syracuse is a comfortable place to live, and the metro area continues to enjoy more improvements. Convenience is a major advantage of life in the city, with a city center accessible within 20 minutes from desirable suburbs, including places like Manlius, Baldwinsville and Liverpool. Single-family detached homes are the most common housing type in Syracuse, as expected in middle-sized cities that offer more space than big megalopolis like the Big Apple. But there are also many more apartments than would be expected in a city this size, mostly thanks to the demand from students from Syracuse University.
Albany
Albany, on the west bank of the Hudson River, benefits from being New York state's capital, meaning it is an important Government city that constitutes the economic and cultural core of the Capital District with many amenities like parks, museums, culture, higher education… Albany is famous for its specific architecture, incorporating many Dutch, and later English, influences. Albany hosts a relatively young population, and a strong, stable job market thanks to the Tech Valley, a marketing name for the eastern part of New York State, encompassing Albany, the Capital District, and the Hudson Valley to promote the area as a high-tech competitor to regions like the Silicon Valley. It is a fairly walkable city. Some of the best neighborhoods in Albany are Pine Hills, Campus Area, Delaware Avenue, Delmar, and many more! There are a total of 36 neighborhoods in the city, leaving plenty of room for you to find the perfect location for your home.
A strong real estate market
The real estate market is strong in Upstate New York. If we take the example of Dutchess County, located in the Mid-Hudson Region of the Hudson Valley, north of New York City, Median Sales Prices went up 24% year-over-year, with an Average Sales Price that went from $320,371 during first quarter of 2020 to $418,455 during Q1 2021, a 30.6% increase.* Single-family units and condos showed that same positive trends and an optimistic perspective for the months and years to come.
* Informe Miller Samuel: Q1-2021 Dutchess County, NY Sales
BARNES New York está a su disposición para ayudarle en su proyecto inmobiliario para comprar una propiedad en Upstate New York, gracias a un fuerte equipo de expertos para ayudarlo en todos los aspectos de sus ambiciones inmobiliarias o de estilo de vida.