If New York City was a country, it would have the 10th largest economy in the world. There is such a diverse group of people, occupations, and living situations that there truly is something for everyone. More billionaires live in NY than anywhere else!
Buying a house in New York can be a huge change for many people, especially if you're not used to city life or are relocating. It can be scary, but it can also be very exciting. Picking the right neighborhood can make or break your experience in NY, so it's important to know what you're looking for and do your research beforehand.
With plenty of NYC houses for sale, choosing the right one can be challenging. The five boroughs are all dramatically different, and even more so are the individual neighborhoods within. Here are a few options for those who want to buy a house in New York, whichever side of the coin you're from, whether it's in the middle of lush, beautiful skyscrapers in Central Park, or something more modest to get you on your feet.
Where is the best luxury housing in New York?
In New York City, the Upper West Side, as well as the Upper East Side, are a couple of the most sought-after places to live, and most coveted places to buy a house in New York. These two neighborhoods are among the most desirable and wealthiest areas of the city and are also home to some of NYC's most iconic buildings.
Both are located in the borough of Manhattan. The median sale price between the two neighborhoods is around $1,300,000, but a townhouse is those neighborhoods can cost about $8 million.
What is it like to live in the Upper West Side?
Central Park borders the Upper West Side of Manhattan on the east and the Hudson River on the west. West 59th Street is on its south side, and West 110th Street lies to the north. It has long been the place where the most wealthy New Yorkers have resided, with the median housing price currently at $1.5M. Some of the most luxurious apartment buildings are found along Central Park West, many of which have housed popular celebrities.
There are numerous places for residents to get out and enjoy nature, with Central Park on the east side, along with Riverside Park near the Hudson River. Riverside Park is part of the Manhattan Waterfront Greenway, a bicycle route and walkway that circles Manhattan's waterfront. The park is a lengthy 4 miles, stretching from 72nd street to 158th street, and reaches right down into the water. It's a beautiful, scenic area to relax, enjoy the outdoors and get away from the hustle and bustle of the city.
The Upper West Side is a hub for diverse culture, intellect, art, and history. It's home to the American Museum of Natural History, the Beacon Theater, the Lincoln Center for the Performing Arts, and much more. There are also countless restaurants, cafes, and diners. Some of the local favorites include City Diner at W. 90th street & Broadway, Cafe Luxembourg at 200 W 70th St, and Bar Boulud at 1900 Broadway, to name just a few. There is such a diverse assortment that you will certainly find something for everyone.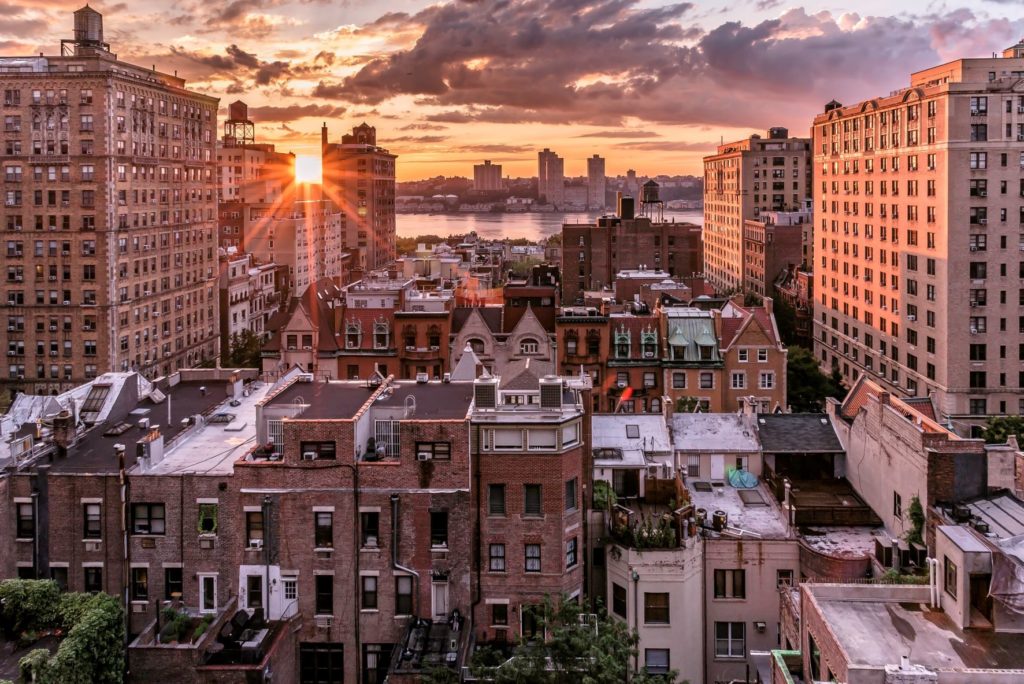 How about the Upper East Side?
Yet another of NYC's most prestigious neighborhoods, the Upper East Side is surrounded by 96th Street on the north side, the East River to the east, 59th Street on the south side, and Fifth Avenue to the west. While pricing is roughly similar, it is slightly smaller than its sister in the west and has a few sub-neighborhoods, known as Lenox Hill, Yorkville, and Carnegie Hill.
Perhaps the most interesting of the sub-neighborhoods is Yorkville, which used to be known as Kleindeutschland, or "Little Germany." Much of its past is no longer noticeable, but the history remains. There are still a few German restaurants, and markets around that have survived over the decades.
Many famous political names have lived in this section of NY, including the Roosevelts, Kennedys, and Trumps, as well as celebrities such as Woody Allen, Lady Gaga, and Mariah Carey. It has also been the setting for many movies, books, and TV shows.
The architecture is truly something to admire in this area, particularly on 62nd Street, which is filled with brownstone houses, grand stoops, and mansions. For history buffs, the Museum Mile along Fifth Avenue is a must-see. It includes institutions such as the Museum for African Art, the Metropolitan Museum of Art, Cooper Hewitt Smithsonian Design Museum, and many more.
What do houses look like in West Village?
West Village is located west of Greenwich Village, delimited by Greenwich Avenue all the way to the Hudson River. The neighborhood is famous for its Bohemian culture and atmosphere, and was home to historical new movements and ideas, especially political, artistic, and cultural.
Most houses, like the vast majority in Manhattan, are 19th-century townhouses, with typical brownstone, cast-iron stairs and fire escape. As of July 2022, the median sale price for a townhouse in West Village is $8,200,000*.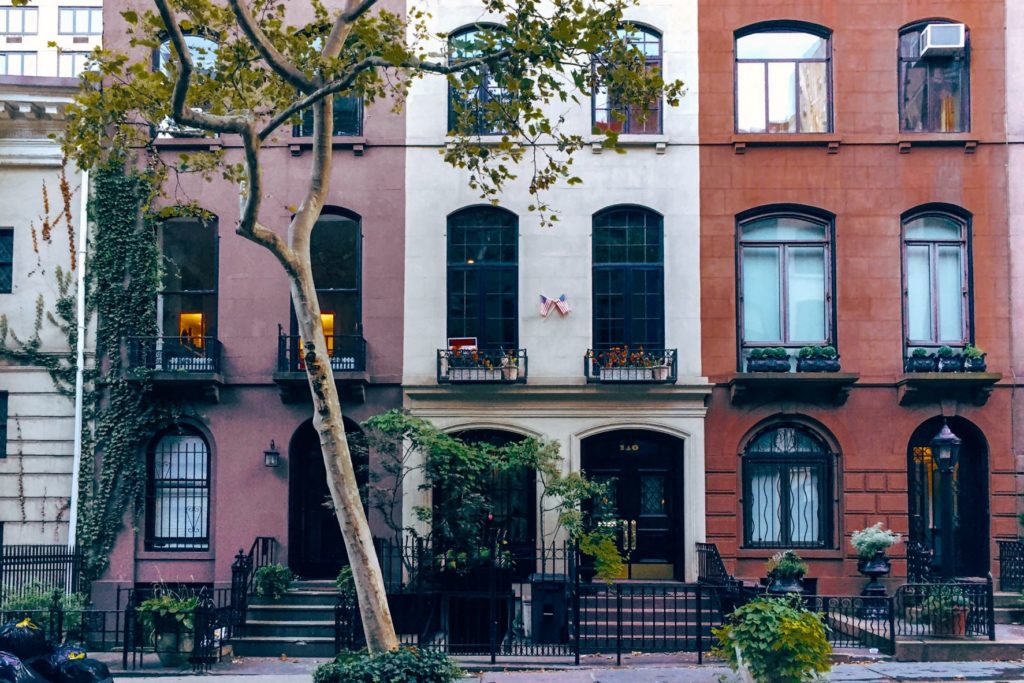 Where is the most affordable housing in New York?
If prestigious luxury housing is not your forte, you may be looking for something a little more on the down-low. While the overall median price of buying a house in NYC can seem high, there are a few areas where it's exponentially more affordable. In addition, new developments in New York will eventually lead to more availability in high-interest areas.
If you still want to buy a house in New York, areas a little further away from the city can be explored, such as Brooklyn and Queens, or even Long Island, offering a lot more options such as townhouses and small houses and a little bit more space. It can be a little bit far away from the city, which, depending on your lifestyle, can be an advantage or an inconvenience. Owning a car, for example, might be easier if you get away a little bit from the city center.
*Data from UrbanDigs
How can BARNES work for you?
Unfortunately, due to the rising costs of construction labor and materials, a lot of companies simply can not afford to build anything less than expensive. This is great news for those looking for top-notch housing but can be a struggle for those trying to make ends meet.
There are also hundreds of older buildings in New York that, with a little TLC, could easily be rebuilt for either affordable housing options or turned into expensive townhomes. The bones of properties from the 60s and 70s, or even older, are still good, although they may feel out of date. However, they are well constructed, and with a little touching up, the possibilities are endless.
On the other side, the luxury housing trend continues to climb, increasing demand. For more information on the best places to find luxury housing, or to buy a house in New York, be sure to contact BARNES New York to talk to a professional.