Investire all'estero è un nuovo dipartimento di BARNES, gestito dall'agenzia di Miami. L'ambizione di Invest Abroad è di supportare i clienti BARNES nei loro investimenti all'estero, attraverso la rete internazionale di BARNES che conta più di 90 agenzie. Oltre ai soli mercati francese e americano, Invest Abroad di BARNES può consigliare ulteriori e diversificate opportunità, a seconda dei tuoi obiettivi: diversificazione, rendimento, mercati emergenti, affitti stagionali, …
Approfitta dell'esperienza internazionale di BARNES oltre alle sue sedi di esperti locali. In linea con il BARNES Global Property Handbook, approfitta delle nostre analisi e dei nostri consigli investire, vivere e viaggiare in tutto il mondo, in particolare in roccaforti immobiliari storiche o emergenti.
Countries where BARNES is established to date : Belgium, Bulgaria, Canada, Spain, United States, France, Greece, Hungary, Israel, Italy, Luxembourg, Morocco, Mauritius, Portugal, Monaco, United Kingdom, Russia, Saint-Barthélemy, Switzerland, Thailand.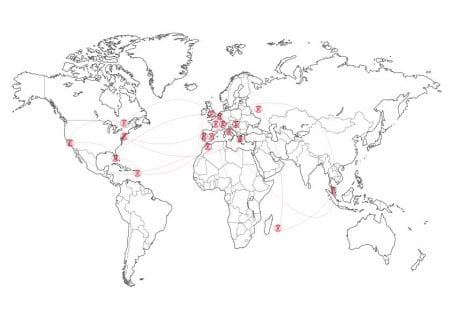 ---
THAILAND
Incontra il regista
Meet Thomas CORNET, CEO of BARNES Thailand
Could you please introduce yourself and tell us how Barnes Thailand office has been created?
My name is Thomas CORNET, I am in the real estate industry for more than 24 years now in France, particularly in the South-West and recently in Thailand. After having spent holidays in the land of smiles, I came back to France and as I was searching for new challenges in my career, Thailand seemed to be an interesting possibility to think about. Therefore the idea of coming and developing the real estate market of Samui came to my mind.
Com'è strutturato il tuo ufficio e quali aree ti occupi oggi?
Our main agency is based in Fisherman's Village, one of the famous attraction of the island. Our team is composed of roughly ten persons divided between sale and rental. The familiar faces of the team you may be in touch with are Amélie Sorel, my executive assistant and rental manager; Celine Bunthan, sales director of Samui; Diana Dangart, consultant; Joe Kayez, consultant and Nina Roma, photographer, communication and
marketing manager. Currently our Samui's agency is fully operated and we are now expanding to Bangkok, the office should be ready by the end of the year. During 2021, an office in Phuket should be opened.
Quali tipi di servizi offrite?
We are offering a multitude of services like rentals, conciergerie, wellness, legal services, visas, advices and of course the sale of property. We are also working on the promotion and development of high-end nursing residency programs.

For a foreigner investor why would you recommend Thailand and what products or location would you suggest?
Thailand is an attractive country on various points.
Aside from the gentle lifestyle and the pristine beaches, the country attracts a lot of tourists, expats and retired people. The lifestyle is good mixing authenticity (temples, celebrations, traditions, etc.) to modernity with ultra modern infrastructures (international hospitals, schools, high end malls, etc.).
Lately the country distinguished itself in the exemplary pandemic management showing really low rates of infected persons due to the strong reaction of the government. Which has provoked an increase of emails coming from overseas asking about investment and saying that they would be interested in owning a property in Thailand especially in case of futur lockdowns in their countries.
The North-East of the island is the most attractive area for short term rentals due of the proximity of Samui's main attractions. However if clients would like to move on Samui, I will recommend to move a little bit away from that area, prices are more affordable, plots of land bigger and they will be able to experiment the Thai life.
I strongly advise the clients to exchange a maximum with their sales representatives in order for them to understand the real needs of their clients and propose to them properties fitting their expectations. Finally, given to the actual situation we are trying to adapt ourselves the best we can and we are offering video documentaries to help clients who cannot access to the country for the moment. Of course we can always do private virtual viewings by video calls. Due to our partnerships with major banks we have the possibility to make funding studies if
needed.
BARNES will do everything in its power to continue serving clients and providing the best level of service and expertise, no matter what the circumstances may be.
---
Discover a sample of BARNES Thailand properties:
Villa Samujana 11
Villa • 320 m² • 3 bedrooms • 3.5 bathroom
$ 1,350,000
Magnificent duplex villa with three bedrooms en suite. A remarkable entrance and landscaped gardens lead to a large outdoor space.
This villa includes a TV lounge, a lounge and an outdoor dining area overlooking the infinity pool and has a breakfast bar and chic kitchen. This villa offers stunning sea views and a secluded garden with large natural rock formations. The private roof terrace is ideal for sunsets.
———————————–
Villa Aruna
Villa • 400 m² • 4 bedrooms • 6 bathrooms
+ independent studio
49 900 000 THB
Villa with a beautiful sea view in the heights of Chaweng, which includes an independent studio, a swimming pool, a spa room, as well as a cinema room.
———————————–
Villa Happy
Villa • 230 m² • 3 bedrooms • 3 bathrooms
15 900 000 THB
This villa close to all amenities, surrounded by palm trees, and an exceptional view of the sea will bring you a lot of comfort with its neat services. Composed of 3 bedrooms and 3 bathrooms, your villa will welcome you for a comfortable life in the year or ensure you rental reports guaranteed.
Its privileged location and modernity will definitely convince you to invest on the island of Koh Samui.
———————————–
Villa Tala
Villa • 150 m² • 3 bedrooms • 3 bathrooms
11 800 000 THB
Beautiful Balinese style villa in the quiet area of Maenam 5 minutes from the beaches and shops. It consists of 3 bedrooms with private bathrooms, a spacious living room and a fully equipped kitchen. You will appreciate its large terrace with swimming pool.
———————————–
Scoprire Investire all'estero