BARNES Opportunités Commerciales
BARNES International Realty est une agence immobilière de luxe ; elle a été créée il y a plus de 20 ans et est aujourd'hui un groupe international, dont le siège social est situé en France / Luxembourg, avec plus de 90 bureaux répartis dans 16 pays, et environ 900 consultants au service de notre clientèle fortunée. Le chiffre d'affaires brut l'année dernière s'est élevé à plus de 6 milliards de dollars. Au cours de la dernière décennie, et en raison de son positionnement haut de gamme, BARNES a développé une multitude de partenariats et une expertise considérable dans l'accompagnement aux family offices, aux sociétés de gestion de patrimoine et aux banques privées dans le monde entier. Ils apprécient les normes très élevées de notre groupe, son professionnalisme, son implantation mondiale et l'interconnexion entre tous les bureaux ; mais surtout nous avons réussi à établir une relation de confiance avec ces entités, en les accompagnant dans la gestion, la diversification et la croissance de leurs portefeuilles immobiliers, tout en étant capables de répondre à des demandes plus spécifiques de leurs clients.
---
FRANCE
Prestigious Stud Farm
Deauville, 14800
This internationally renowned stud farm, built in 1800, offers an exceptional 180-hectare estate with an owner's dwelling castle and numerous outbuildings (a farm with its manor house and farm buildings, training track, paddocks of various sizes and stud building for stallions, and foaling stables, cottages, chapel, several entrances with secure gates, caretaker's house). This exceptional property also includes a very large group of buildings typically augerons with a courtyard from the 18th century with its stables in perfect condition. Located near Deauville, this magnificent estate is served by beautiful tarred roads in a landscaped bocage environment.
Sale price: € 40,000,000
———————————–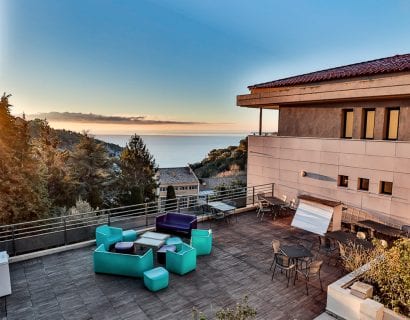 La Perle d'Eze
244 avenue de Verdun, Èze 06360
La Perle d'Eze, d'une superficie d'environ 2 000 m² (24,692 sqft.), construite en 2006 et rénovée en 2020, est une Résidence de Tourisme (statut français qui ouvre de nombreuses possibilités, et peut également avoir une évaluation officielle de la résidence). Cette propriété exceptionnelle comprend 48 appartements avec 10 studios, 16 T2, 22 T3 et 50 parkings. En plus de sa vue imprenable sur la mer, la résidence dispose d'une piscine, d'une réception et de 2 ascenseurs. Chaque unité dispose de la climatisation et d'un espace extérieur (jardin / terrasse). Idéalement situé entre Monaco et Nice, le village d'Eze est au cœur même de la Côte d'Azur ou de la French Riviera.
Sale price: € 23,552,000
———————————–
Exceptional Vineyard Property
Bordeaux, 33000

This castle of 82,7 acres is made up of two blocks of vineyard plots : the first one consists of 29,1 acres in a prestigious Médoc appellation, the second one consists of 53,6 acres in Haut-Médoc appellation, very close to each other and almost adjoining the winery and the mansion. The large and functional winery includes a winemaking cellar with concrete and stainless steel vats with a total capacity of 5,200 hl (137 400 US gal.), a barrel room with a current capacity of 300 barrels and a storage cellar, both of which are underground, a storage cellar and a cellar with all the equipment needed for bottling and labelling, as well as an office. An 8,600 sqft. shed, housing vineyard equipment in good condition, and a caretaker's house complete the property. The Château produces around 90,000 bottles of red wine from a prestigious Médoc appellation and 160,000 bottles of red wine from Haut-Médoc appellation. The 3,200 sqft. mansion has 8 rooms including 2 kitchens on the ground floor, and 7 bedrooms plus 1 bathroom upstairs. Price is excluding wine stock and costs accruing to growing crops. Memorandum of information will be submitted after signature of a confidentiality agreement.
Sale price: € 15,960,000
———————————–
Nous contacter pour plus d'informations
Discover all commercial opportunities