BARNES Commercial Opportunities
BARNES International Realty is a leading international real estate firm; it was created more than 20 years ago and is now a consolidated group, headquartered in France / Luxembourg, with 90+ offices spread over 16 countries, and about 900 consultants at the service of our high-net worth clientele. Last year, gross sales amounted to over $6 billion. Over the past decade, and due to its particular high-end positioning, BARNES has developed a multitude of partnerships and considerable expertise in assisting family offices, wealth management firms, and private banks globally. They appreciate the very high standards of our group, its professionalism, worldwide implantation and interconnection between all offices; but mostly we have been successful at building trust with those entities, accompanying them in the management, diversification and growth of their real estate portfolios, while being able to respond to more unique requests from their clients.
---
FRANCE
Prestigious Stud Farm
Deauville, 14800
This internationally renowned stud farm, built in 1800, offers an exceptional 180-hectare estate with an owner's dwelling castle and numerous outbuildings (a farm with its manor house and farm buildings, training track, paddocks of various sizes and stud building for stallions, and foaling stables, cottages, chapel, several entrances with secure gates, caretaker's house). This exceptional property also includes a very large group of buildings typically augerons with a courtyard from the 18th century with its stables in perfect condition. Located near Deauville, this magnificent estate is served by beautiful tarred roads in a landscaped bocage environment.
Sale price: € 40,000,000
———————————–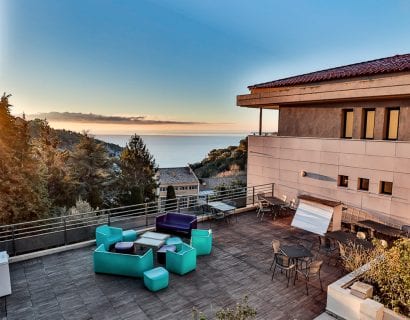 La Perle d'Eze
244 avenue de Verdun, Èze 06360
La Perle d'Eze of approx. 24,692 sqft., build in 2006 and renovated in 2020, is a Tourism Residence (French status that opens many options, and can also have an official rating of the residence). This exceptional property includes 48 apartments with 10 studios, 16 x 1-BR, 22 x 2-BR and 50 car parks. In addition to its breathtaking view of the sea, the residence features swimming pool, reception area and 2 elevators. Each unit has AC and an outdoor area (garden / terrace). Strategically located between Monaco and Nice, the village of Eze is at the very heart of the French Riviera or Côte d'Azur.
Sale price: € 23,552,000
———————————–
Exceptional Vineyard Property
Bordeaux, 33000

This castle of 82,7 acres is made up of two blocks of vineyard plots : the first one consists of 29,1 acres in a prestigious Médoc appellation, the second one consists of 53,6 acres in Haut-Médoc appellation, very close to each other and almost adjoining the winery and the mansion. The large and functional winery includes a winemaking cellar with concrete and stainless steel vats with a total capacity of 5,200 hl (137 400 US gal.), a barrel room with a current capacity of 300 barrels and a storage cellar, both of which are underground, a storage cellar and a cellar with all the equipment needed for bottling and labelling, as well as an office. An 8,600 sqft. shed, housing vineyard equipment in good condition, and a caretaker's house complete the property. The Château produces around 90,000 bottles of red wine from a prestigious Médoc appellation and 160,000 bottles of red wine from Haut-Médoc appellation. The 3,200 sqft. mansion has 8 rooms including 2 kitchens on the ground floor, and 7 bedrooms plus 1 bathroom upstairs. Price is excluding wine stock and costs accruing to growing crops. Memorandum of information will be submitted after signature of a confidentiality agreement.
Sale price: € 15,960,000
———————————–
Contact us for more information
Discover all commercial opportunities